New Hot Spot in Jeonju,
Wedding Street
Wedding Street is one of the mandatory courses for Jeonju citizens preparing for a wedding, as its name suggests. Stores related to weddings, including Hanbok, wedding gifts, wedding invitations, and wedding studios are lined up from the street entrance. As Gaengnidan-gil gets crowded and cafes and craft workshops have been gradually moving to Weridan-gil, Wedding Street became a space where the youth and artists settle down and live. Walk from Dongmun Art Street to China Street, and you can look around a variety of unique and creative stores
It's very exciting to look around the Jeollagamyeong Provincial Office Alley on one side and Jeonjugaeksa-gil on the other side. Walk along Weridan-gil, and you will meet the Jeonju Night Market and the Nambu Market, famous for the youth mall.
HOT SPOT in Wedding Street
Attention for a bride-to-be and a groom-to-be
Jeonju Wedding Street is the dating course for brides-to-be and grooms-to-be for wedding ceremonies as well as sweethearts in spring and autumn, the seasons for weddings, and is the newly emerging hot spot in Jeonju! Wedding Street was named 'Weridan-gil' because it is similar to Gyeongridan-gil in Seoul, the representative landmark of Korea. Wedding Street is closely packed with about 80 stores related to the wedding industry. It is a specialized street expected to reduce costs and increase sales. Stores related to wedding items, including Hanbok, formal suits, wedding gifts, and wedding invitation line up from the entrance.
16-14, Jeollagamyeong 4-gil, Wansan-gu, Jeonju, Jeollabuk-do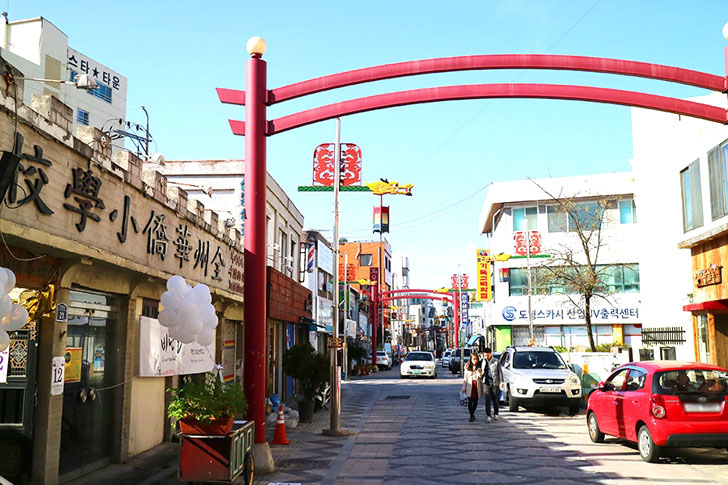 China Street
At the end of Wedding Street, after passing through Seomun Gate, there is China Street, the true workshop of the youth. At the end of Wedding Street is the Seomun Gate. China Street is linked to the main roads of Gaengnidan-gil with Chungjeong-ro. Thus, various workshops and stores line the street extending from Gaengnidan-gil. China Street is a specialized street with Chinese-style facilities, including street tiles and lamps, according to the agreement with Suzhou, China in 2003. China Street has many things to see, including leather workshops, cafes, pet shops, studios, and pubs. Weridan-gil was formed along the street extended from Gaengnidan-gil and is emerging as the new hot spot in Jeonju. This is the place where the youth and artists settle down.
Daga-dong 3-ga, Wansan-gu, Jeonju