Visit Traditional Market! Jeonju Market Tour # 3
The center of Jeonju!
Jeonju New Jungang Market
fulfilling your five senses
Jeonju New Jungang Market
is full of food and attractions
Space of memories from Jeonju's modern
and contemporary history
As stalls were created and the stores gathered, Willow Market was formed along the Nosongcheon Stream willow road.
In 1999, this willow market officially became Jeonju New Jungang Market,
a medium-large-sized strip mall next to Jeonju Jungang Cathedral.
In this regard, Jeonju New Jungang Market is a memory of Jeonju, for it has shared modern
and contemporary history with Jeonju citizens. Market scenery, delicious food,
and the sound of people chatting and bargaining for prices evoke old memories
for some and give some unusual experiences for the other.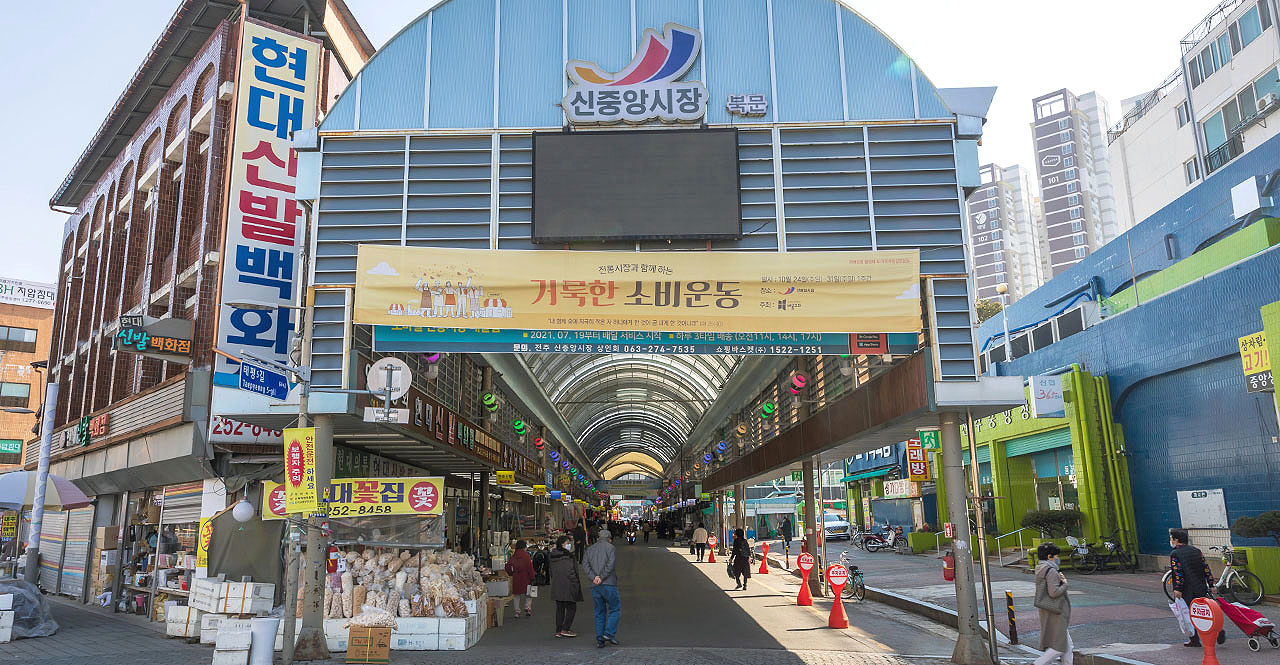 Jeonju New Jungang Market, which is located within developed transportation and has the best commercial district,
is a traditional market with a long history and tradition. Through the market revival project,
Jeonju New Jungang Market becomes a modernized and cultural tourist destination,
providing a pleasant environment such as a cooling system and a public parking lot for those visiting the market.
Even today, many people still visit this market, and it is a place that all ages can enjoy.
In particular, it is continuing its new heyday by providing various foods and entertainment on Pojangmacha Street.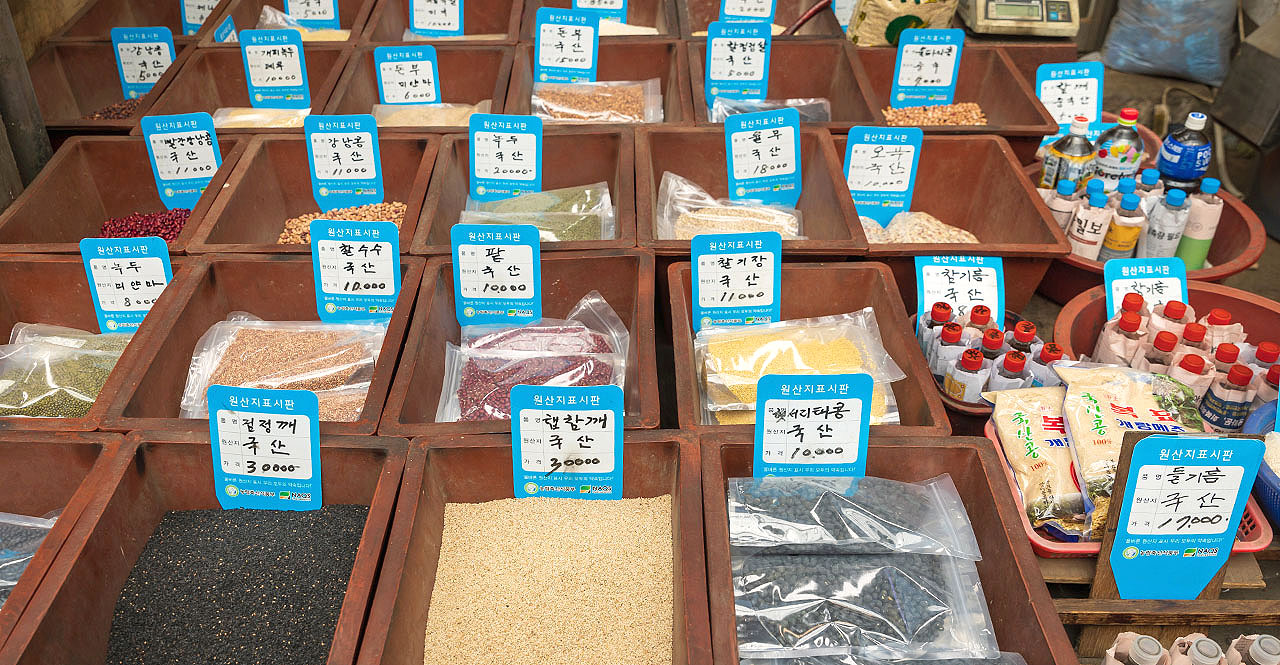 The interior of the Jeonju New Jungang Market is very clean and tidy.
The shops are lined up in an orderly fashion and are well maintained. It has convenient facilities
while retaining the warmth of the traditional market.
Parking spaces, various facilities, and stores are well equipped, making it convenient to shop.
The use of the country of origin marking system and the price marking system allows the product to be trusted and purchased.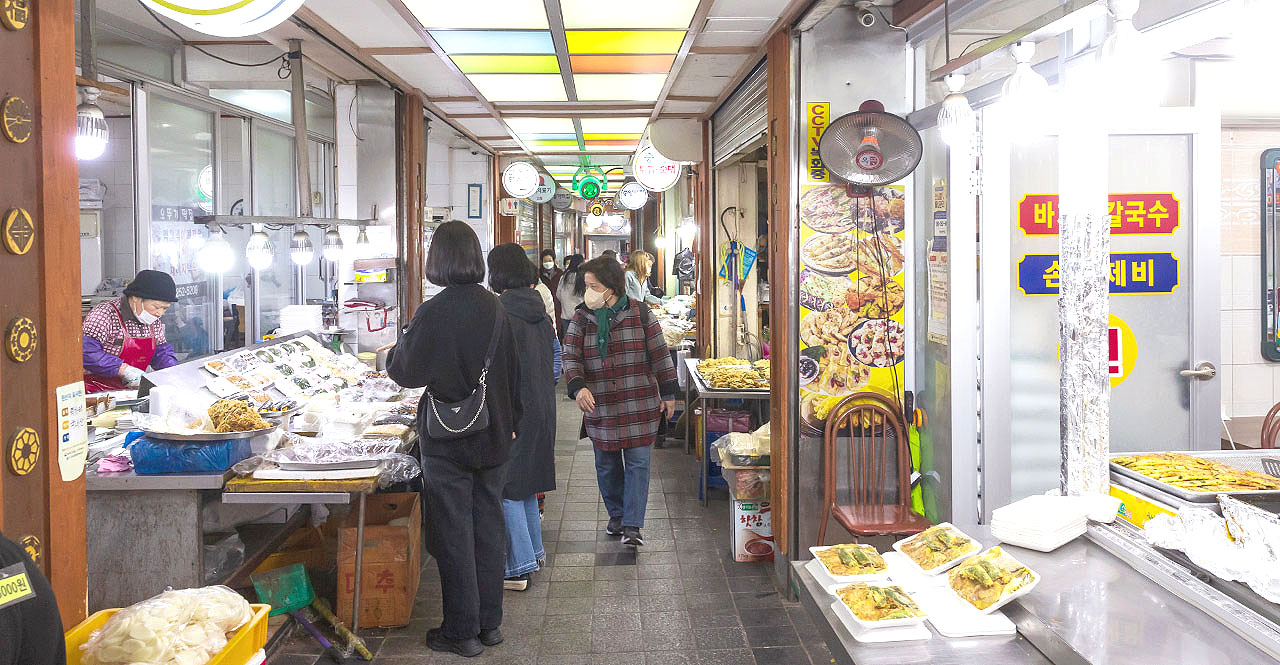 On the side of the market, there is a small alley called Tteok Golmok.
This is a place where people who traveled to and from the market were provided with small food and share their joy.
Rice cakes (called "tteok" in Korean) are mainly sold in Tteok Alley, but they also sell bunsik.
You can feel the kindness of market sellers and the outstanding taste created by their hands.
Tteok Alley not only retains old memories and taste, but also offers people joy with such a good price.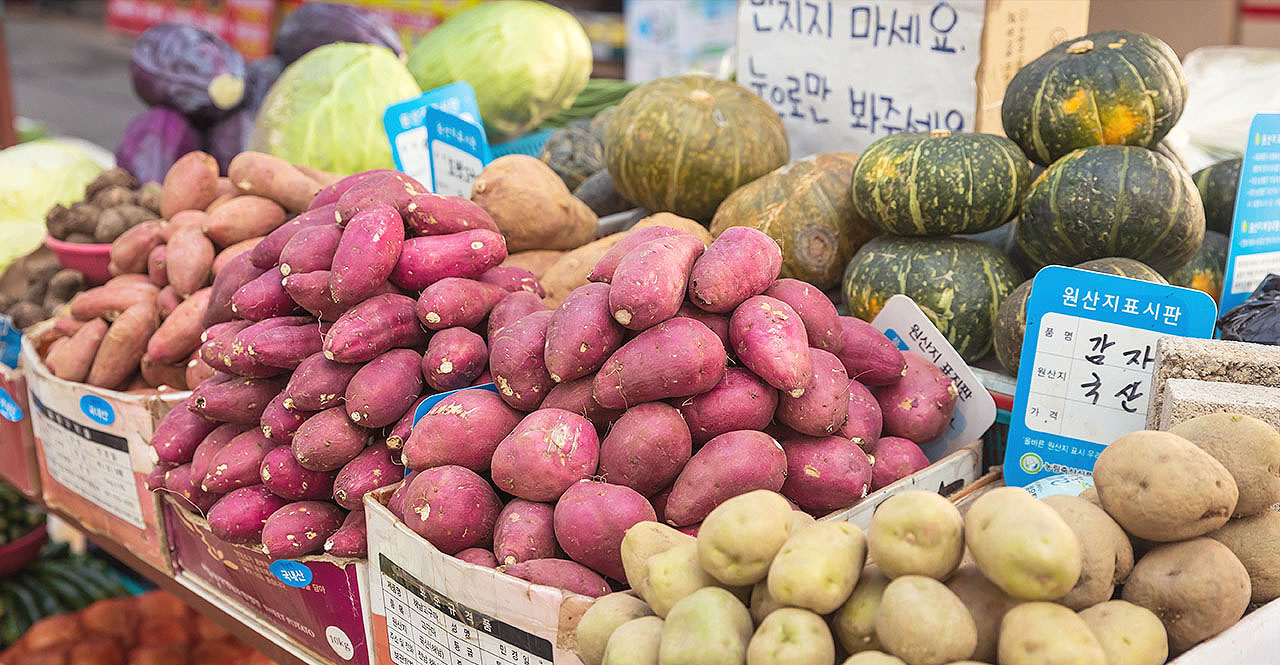 Banchan (side dish) shops are the mainstream in Jeonju New Jungang Market, but in addition,
they sell a variety of products such as agricultural and fishery products, livestock products, groceries, clothing and miscellaneous goods. In most stores, Onnuri gift certificates and Zero Pay are available, and courier services are also provided.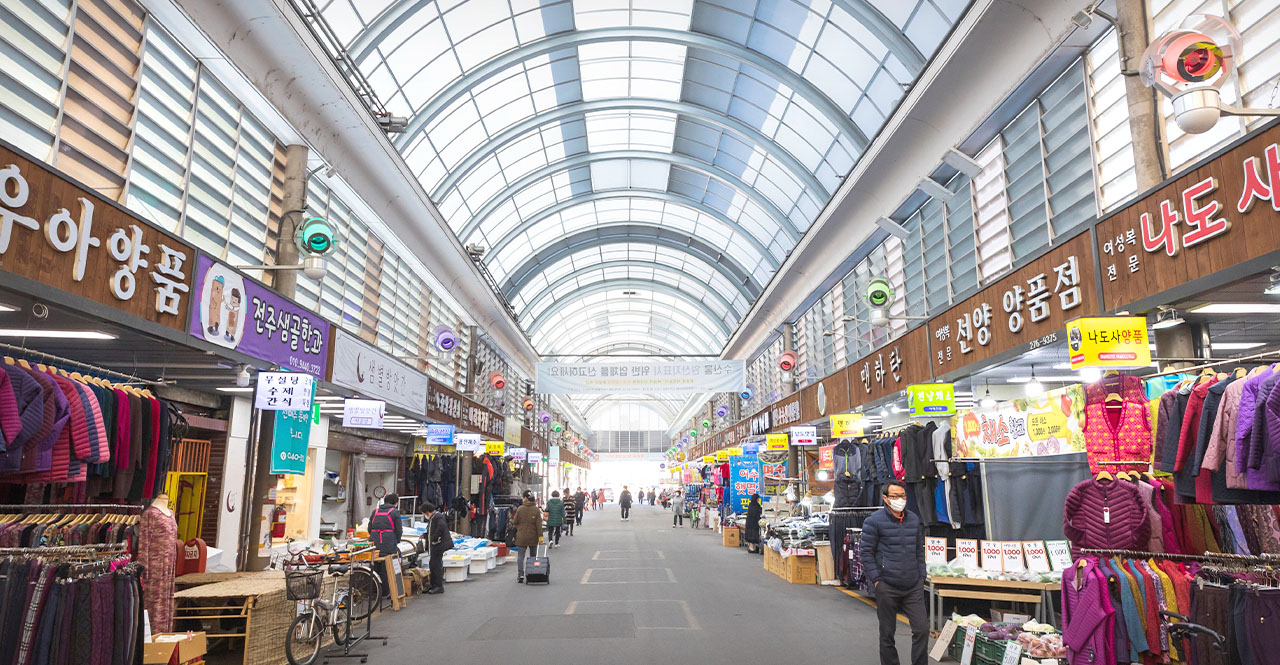 After COVID-19, the sale at the Pojangmacha street and various experiences of Jeonju New Jungang Market has been temporarily suspended, but Jeonju New Jungang Market, which has a long history and tradition, is always ready to welcome customers with more diverse and rich entertainment.
Lots of Fun with Various Food and Attractions
Jeonju New Jungang Market is located in the center of Jeonju and is close to Gaekridan-gil street,
Hanok Village, and Nambu Market. It can be reached in one or two stops by bus or five minutes by car from Gaeksa,
making it perfect for travelers to stop by. At Jeonju New Jungang Market, you can see a variety of agricultural and
marine products, food, and miscellaneous goods, and especially, there are many snacks that make it impossible to overlook.
From street food to meals, we introduce six bucket list restaurants that have must-eat foods in Jeonju New Jungang Market.
※ Caution! If you skip it thinking it's a taste you already know, you'll regret it! ※
6 Bucket List Restaurants
1

Wonjo Jungang Chapssal Hotteok

Once you taste it, Can't forget it! Crispy Outside, Soft Inside~

It is crispy on the outside and chewy on the inside. Its unusual texture like as grilled injeolmi cannot be compared to regular hotteok. Wonjo Jungang Chapssal Hotteok, run by sisters who show fantastic teamwork, has been in Jeonju New Jungang Market for more than 40 years. This place was originally a local restaurant with many regular customers, but it became more famous for appearing on "Little Big Masters".

The secret of the chapssal (sticky rice) hotteok here is the dough created by the owners' long experience. They add the filling of old pumpkins, taro, makgeolli, and secret ingredients to make chapssal dough. As soon as the order comes in, they put sugar in the chapssal dough and bake it golden brown. You can taste delicious chappsal hotteok for only 1,000 won. It is so appetizing that you can feel small happiness just in one bite of hotteok.

Location

70, Taepyeong 3-gil, Wansan-gu, Jeonju-si, Jeollabuk-do, Republic of Korea View Maps

Opening Hours

09:00~18:00 / Closed : Sunday, when ingredients run out

2

Ttowa Bunsik

Mouth watering donuts, the taste out of this world!

Gorgeous breads allure the passerby between the central square of Jeonju New Jungang Market. This place is also one of the famous restaurants in Jeonju New Jungang Market, where you can find chapssal donuts, red bean donuts, kkwabaegi donuts, croquette, custard cream bread, dumplings, and steamed bread. From dough to cream, 100% homemade for more than 20 years. Ttowa Bunsik is a reasonable price restaurant that appeared on TV in "6 o'clock My Hometown" and "Little Big Masters"

When you see the performance of kneading, frying, and sprinkling sugar to the bread, you cannot help but order. The texture of the bread is soft and pleasantly sweet. You can feel the taste of a high-end bakery at a very reasonable price.

Location

41-2, Taepyeong 5-gil, Wansan-gu, Jeonju-si, Jeollabuk-do, Republic of Korea View Maps

Opening Hours

09:00~19:30 / Closed : Tuesday

3

Jungang Tteokjip

Eat bunsik at a tteok shop? Get familiar but unusual experience.

Tteok Alley, located at the entrance to the market from the bus stop, is a history and essential course of Jeonju New Jungang Market. The savory smell of oil from the tteok shop leads customers. Uniquely, they mainly sell tteok, but they also sell tteokbokki, japchae, and kimbap. In particular, Jungang Tteokjip sells various kinds of snacks such as twigim and sundae.

Homemade tteok presents nice and chewy texture. Another delicacy here is eating tteokbokki and japchae together. When the taste you already know meets each other, they create a new taste that you have never experienced. What's more surprising is that you can eat such a generous meal for less than 10,000 won.

Opening Hours

07:00~19:00 / Closed : Tuesday

4

Maeil Bangatgan · Maeil Bunsik

Unique meeting of sweet patjuk and chewy kalguksu! Restaurant specializing in Pat-kalguksu

This is a good restaurant recommended by market merchants. It is a place where you can eat thick and sweet patjuk, sae-al patjuk, pat-kalguksu at an affordable price. Although people eat patjuk usually on winter solstice, many people visit this place throughout the four seasons. Men and women of all ages can't help but fall in love with the charm of sweet patjuk.

The restaurant is wide and clean, so lots of customers can eat inside. Both the texture and taste are excellent, generous portion is a bonus. The thick red bean soup as well as nice and chewy noodles are outstanding.

Location

74-13, Taepyeong 3-gil, Wansan-gu, Jeonju-si, Jeollabuk-do, Republic of Korea View Maps

Opening Hours

11:00~19:00 / 24/7

5

Matjarang Banchan

The leader of the banchan store around for more than 30 years

It's good to go to famous restaurants when you travel, but how much better would it be if you could enjoy the taste of Jeonju at home? Inside the main gate of Jeonju New Jungang Market, there is an eye-catching display stand. They are Korean banchan that are deliciously packed. Various kinds of kimchi, such as baechu kimchi, chonggak kimchi, and dongchimi, side banchan, guk (soup), jjigae (stew), and jeon are displayed as well.

Matjarang Banchan is a side dish store that has been visited by many customers for 30 years. It seems that the number of customers has decreased due to Corona, but still crowded. Instead of visiting the store in person, people also order banchan in delivery. As the taste of Jeolla-do has gone viral, many people order kimchi or side dishes from other regions. The side dishes are also cheap, so let's stop by and buy them.

Location

70, Taepyeong 3-gil, Wansan-gu, Jeonju-si, Jeollabuk-do, Republic of Korea View Maps

Opening Hours

08:00~19:30 / Closed : Sunday, holiday

6

Jinmijip Main Branch

Have heard of Yeontan Pork Bulgogi Kimbap Ssam? Origin of indoor Pojangmacha since 1976

If market sightseeing and snacks were appetizers, this is the real main menu. When you come out of the market and walk along Nosongcheon Stream, you can see a Jinmijip Main Branch run by family for the second generation. This is a friendly place that has been responsible for the hungry nights of ordinary people for 47 years. It has appeared on various broadcasts, and has also been introduced in the "Heo Young Man's Food Travel". Nowadays Jinmijip is a popular tourist destination.

The signature menu of Jinmijip is the combination of pork bulgogi, kimbap, and garak-guksu. Ojingeobokkeum (stir-fried squid) is also a new rising star. You can order one serving for each menu here, so you can try various menus at once. To enjoy these combo, put a piece of lettuce on the palm of your hand, and wrap it with a piece of spicy bulgogi, kimbap, and garlic (depending on your taste). And then put the savory garak-guksu in your mouth right away. It couldn't be better than this!

Why don't we wrap up today's trip with a simple drink and a delicious late-night food. Isn't this the joy of traveling?

Location

106, Nosongyeoul 2-gil, Wansan-gu, Jeonju-si, Jeollabuk-do, Republic of Korea View Maps

※ Jinmijip's public parking lot on the left (paid) is available

Opening Hours

17:00~04:00 / Closed on the first and third Sundays

(May vary depending on COVID-19 business restrictions)
Public Parking Lot Information
Location

18, Taepyeong 4-gil, Wansan-gu, Jeonju-si, Jeollabuk-do, Republic of KoreaView Maps
Opening Hours

10:00~23:00
Parking Fees

500 won per hour (Free parking tickets are provided when using the market)
Extra Info.

Three-story building / Auto pay station (Prepay)