Step into autumn with romance Autumn
The heart is swayingRomantic Tour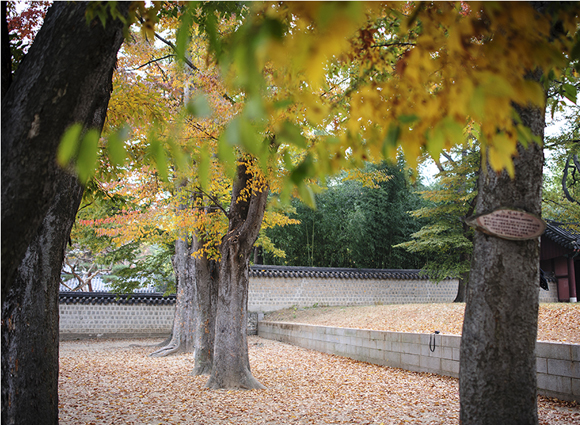 Gyeonggijeon Hall Yard
Many people don't know about Gyeonggijeon Hall, even when they look around the Hanok Village and Jeonju. In particular, more people might not see the trees rooted in the yard. The yard in Gyeonggijeon Hall has a variety of large trees, including mume trees, pagoda trees, and maple trees. Due to various colorful trees, Gyeonggijeon Hall Yard is perfect for feeling autumn in Jeonju. The autumn leaves in Gyeonggijeon Hall create a picturesque view in harmony with the simple buildings. In late autumn, after all of the colorful leaves fall, you may experience a unique feeling while stepping on the carpet of colorful leaves.
44, Taejo-ro, Wansan-gu, Jeonju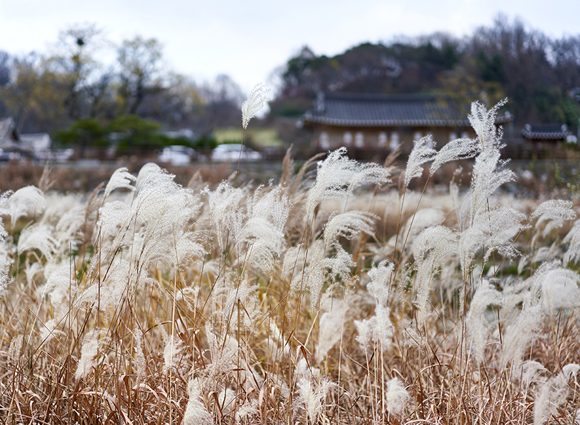 Ditch Reeds in Jeonjucheon Stream
The waterside of Jeonjucheon Stream passes through Samcheon, and Jeonju is filled with reeds as tall as an adult every autumn. The field filled with milky reeds looks like crushed cotton from a distance. The reeds are so tall that those strolling through the field are not visible. One of the ways to fully enjoy autumn in Jeonju is to slowly ride a bike with your family or sweetheart along the waterside of Jeonjucheon Stream.
Around 1022, Gyo-dong, Wansan-gu, Jeonju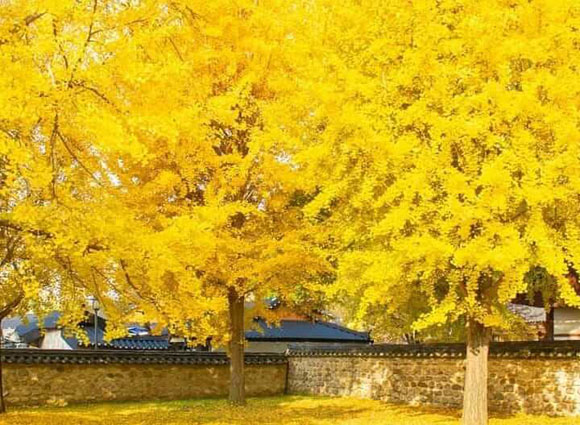 Jeonjuhyanggyo Confucian School Ginkgo Tree Yard
Jeonjuhyanggyo Confucian School is the cradle of learning for developing competent people who will lead the culture of Confucianism. One of the autumn scenes of Jeonju which should not be missed is the yellow ginkgo tree yard in the Confucian School. When yellow ginkgo tree leaves fill the yard of the Confucian School, where Confucian scholars studied during the Joseon period, an endless line of tourists visit this famous photo spot. In particular, there are four ginkgo trees, which are over 400 years old, in the front yard of the Myeongryundang Building. Those trees were planted for Confucian scholars to learn from ginkgo trees which are not damaged by blights or harmful insects.
139, Hyanggyo-gil, Wansan-gu, Jeonju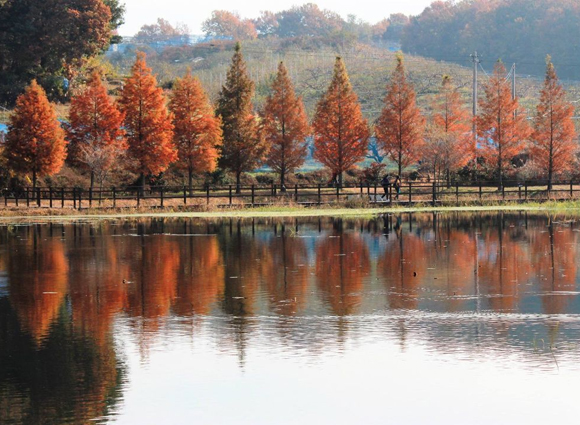 Geonjisan Mountain
The eco-trail between Geonjisan Mountain and Osongje is famous among local residents. The scenery during autumn is extraordinary. Red autumn leaves are embroidered here and there on the mountain. The lake in the middle and pavilions in several spots are picturesque.
Songcheon-dong 1-ga, Deokjin-gu, Jeonju, Jeollabuk-do