Visit Traditional Market! Jeonju Market Tour # 2
Fresh energy infused
in traditional market,
Youth Mall
Hot place in
Jeonju Nambu Market, Youth Mall
as a famous photo spot
Nothing but pictures left!
Travelers eager for pic of the day, gather here!
Why don't you visit the Youth Mall on the second floor of the Jeonju Nambu Market
after looking around the traditional market?
If you've anticipated a typical market atmosphere, it will make your jaw drop as soon as you enter the Youth Mall.
The Youth Mall is a Real New Town created by passionate young people who agree to revitalize the market in the place where Saemaul Market was located. At the entrance of the Youth Mall, lovely cute cats give you a very warm welcome.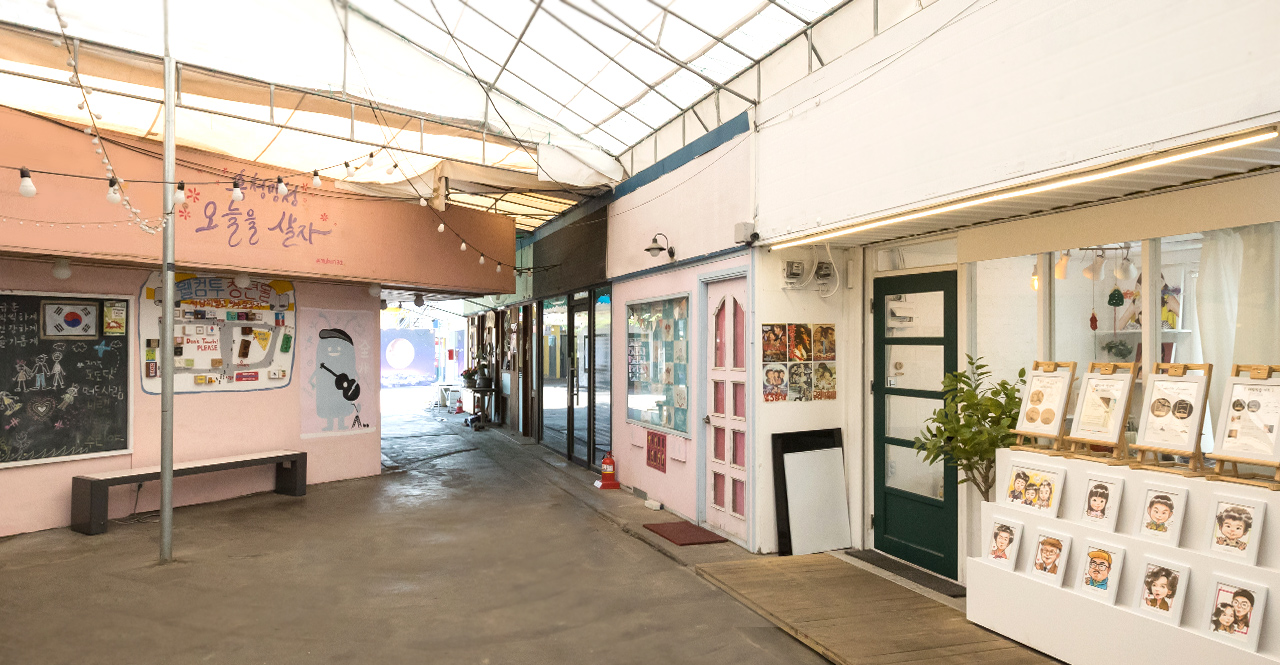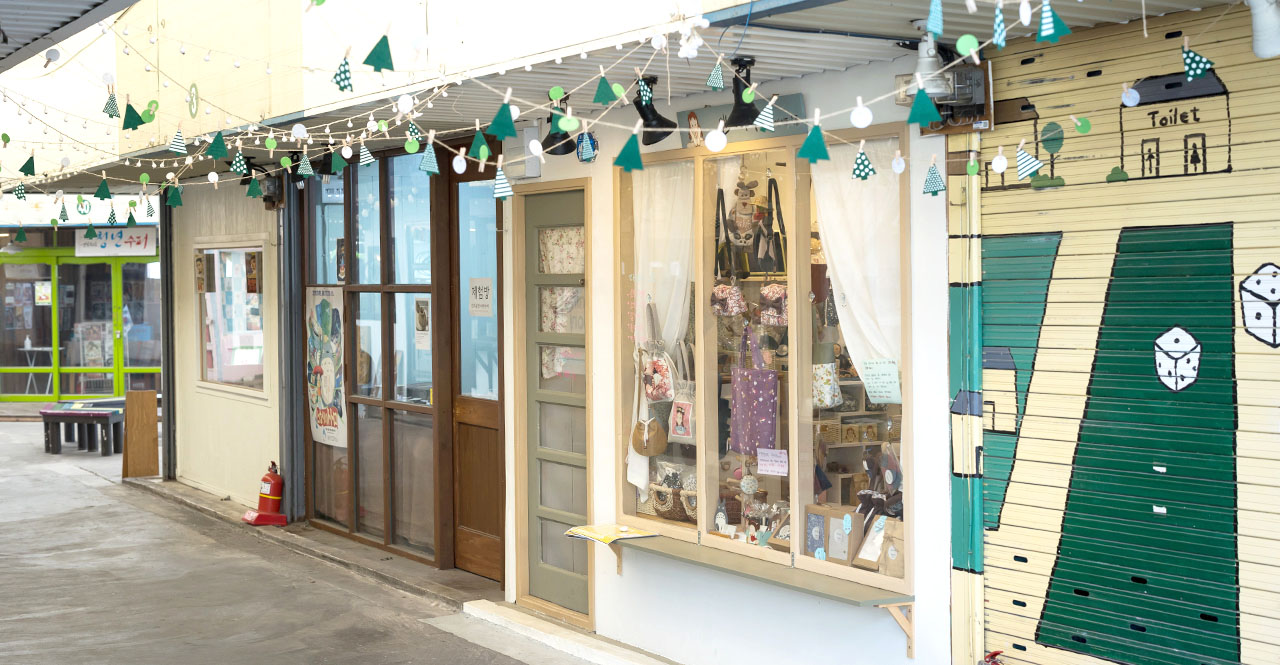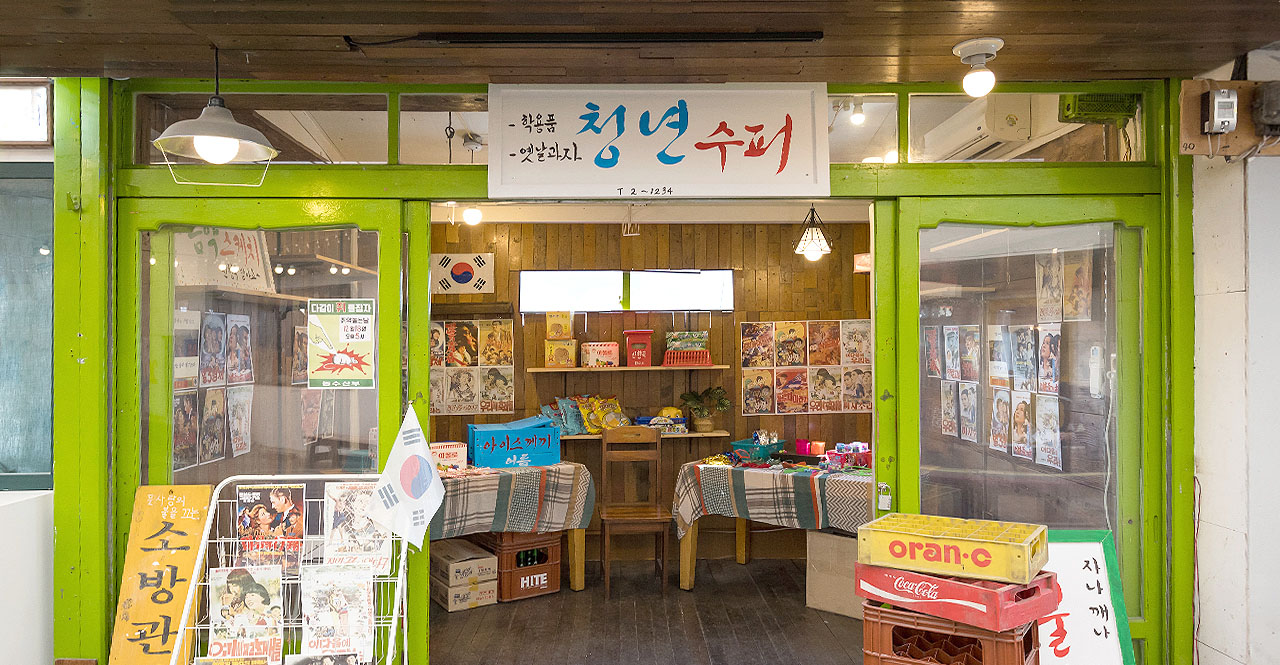 Every store is decorated with their individuality and cuteness. It's fun to look around. Each of the nicely decorated shops is a photo zone. Every picture taken in front of these shops become the pic of the day. You can tell that each of them are the best photo zones.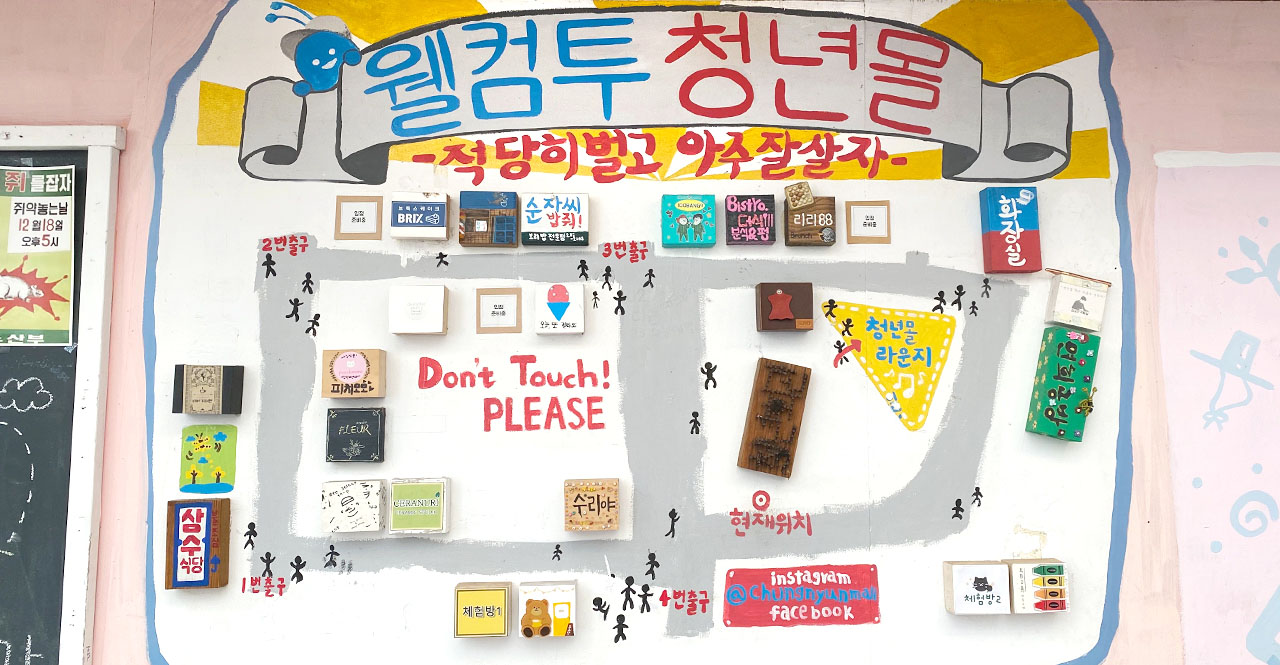 nformation maps showing the location of each store are lovely decorated.
It is also fun to look around pretty shops and Youth Mall along the information map.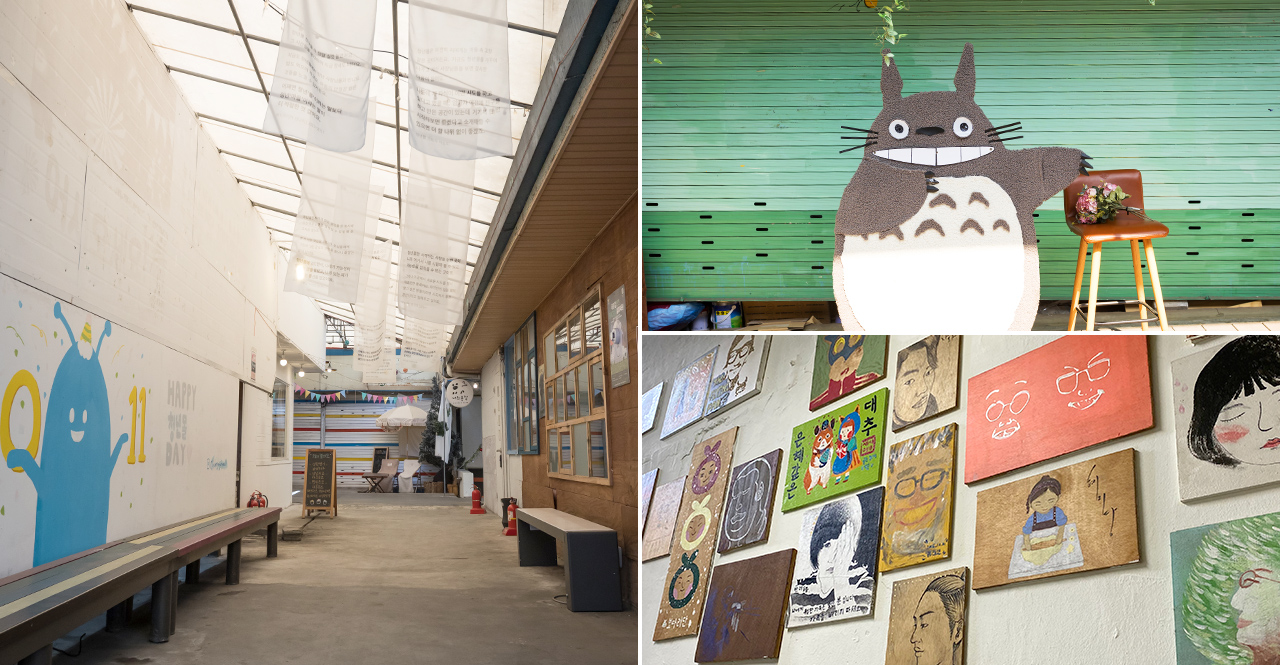 When you come to the Youth Mall, your hands as well as your eyes should be busy together.
Looking around pretty shops is a great pleasure but you know that you can also find various photo zones all over the Youth Mall.
What a sense of young people! They really understand the needs of travelers.

As going around the Youth Mall, you will encounter the way to the Haneul garden.
On the wall of the road leading to the Haneul Garden, you can see the illustration of the blue sky.
After passing through the entrance that somehow creates curious vibes, there comes pretty photo zones,
benches, tables, and small cafes where you can rest. Travelers who are tired of watching
and taking pictures can relax for a while, while enjoying the wind in the open Haneul garden.
Outside the railing, you can enjoy the scenery along the Jeonjucheon Stream.
If eating well is the top priority of travel,
keep an eye on this!
Youth Mall is a collection of distinctive restaurants including fusion Japanese restaurant "Baeksu-ui Chan",
brunch cafe "Riri 88", and cocktail bar "Bar Cold Dawn". *Independent bookstore "Todakbook"
where readers share their stories through post-its, prop shop "Baekbanggu"
which sells unique webtoon character goods, and various prop shops are also gathered.
From unique food to vintage props, in Youth Mall old and new meets together and creates hip vibes.
It is a place I really want to recommend.
5 Recommended Stores
1

Baeksu-ui Chan

Hot Place in Youth Mall, Fusion Japanese Restaurant

Baeksu-ui Chan is a restaurant where you can taste unique fusion Japanese food finished with the master's touch. The phrase "Welcome Daytime Drinking" allures passerby. The inside of the restaurant is not large, but is warm and cozy. The vibe makes people ease themselves. Also, the food tastes as good as the atmosphere. You may have to wait before the opening time. However, the food is so delicious that you may feel that the waiting time is not a waste. Different menus are presented from season to season using seasonal ingredients. Therefore, if you have a menu you want to eat, check it out on the Instagram (@bunaround) before visiting. Because this place makes food with the most delicious seasonal ingredients, it always presents 'the best at the time' to customers.

In addition to the seasonal menu, I recommend you to try steady-selling minced meat miso udon. Miso soup is warm and thick, and udon noodles are nice and chewy. This restaurant's minced meat miso udon is different from other ordinary Japanese udon flavors. The moment you taste the soup, you will definitely fall in love. If you want special food and special vibes, please visit Baeksu-ui Chan at the Youth Mall.

Opening Hours

12:00~21:00 / Break time: 15:00~17:30 / Last order: 20:00

2

Riri 88

Old & New, Western Brunch Cafe hidden in Traditional Market

If you want to relax and enjoy brunch with a cup of tea, visit the Western brunch cafe Riri 88. At the entrance, a wooden signboard as well as a gorgeous lion statue wearing a golden crown welcome you. Since Riri 88 has calm and vintage vibes, you can quietly enjoy the emotional mood while eating palatable brunch. How exotic is the Western brunch cafe you meet in a traditional market. Eco bags with lovely food illustrations are displayed on the side of the wall, which play a role as a menu as well as an interior. The owner's sensible idea truly stands out.

Looking around the interior with various props, you will find your eye-catching brunch meals placed on the table in no time. The food tastes just as good as the decent food plating. The only thing you need to do is enjoying brunch with sweet music and the beautiful view of the Youth Mall outside the window. It is pleasing to the eye, pleasing to the mouth! It is the perfect place to enjoy time alone or to spend time with a lover.

Opening Hours

10:30~14:00 / Closed : Monday / No Kids Zone

3

Bar Cold Dawn

Taste of adulthood, unique cocktail bar without a menu

Bar Cold Dawn is a unique cocktail bar perfect for beginners. It is very hard to find the perfect drink that suits your taste just by the name. Therefore, at Bar cold Dawn, the bartender himself serves as a menu. Bartender does not receive the order in an ordinary way. Instead, he finds the perfect cocktail that suits your taste while he talks to you. Words has magical power, so you can relax and soak up the vibes of the cold dawn while talking about your favorite scent and taste. Such cocktail created by the bartender's special touch is the one and only dedicated just for you.

And the signature menu here, "Adult's Icecream," is also unique. You can pour one of the six liquors on top of the ice cream made with alcohol. The pleasant scent that comes after sweetness is very attractive. If you are looking for the cocktail that makes you soak up the vibes of the dawn, here, Bar cold Dawn is just right for you.

Opening Hours

Weekdays-15:00~23:00, Saturday-15:00~22:00 / Closed : Sunday

4

Bookstore Todakbook

Independent bookstore that pats your heart

With the development of video media today, the ways of sharing thoughts have diversified. But sharing thoughts through notes is somehow more affectionate. The bookstore has books, cats, and cafes, and you can leave your appreciation of the book in handwritten notes. Several memos about the book are posted on the bookshelf where books about social topics such as women, the elderly, and the environment are placed. It becomes a channel for communication, introducing books, and answering questions. Here, you can find books that are hard to find in ordinary bookstores. Why don't you build a bond and give a food of your heart in a special bookstore?

Opening Hours

11:00~20:00 / Closed : Monday

5

Baekbanggu

Writer Baek's stationery, webtoon MD shop

What if there's a MD shop full of favorite webtoon characters? There is a place within colorful Youth Mall that stands out with vivid and unique colors. It is Baekbanggu, an MD shop and writer's studio for the webtoon "Jujeonburi".

Baekbanggu is an abbreviation of "Writer Baek's Stationery". It presents props and goods of Baek's character. There are various props such as note pads, stickers, postcards and key chains. However, on the side of the store, there is also a photo zone with a cool background. The interior design is truly thoughtful for the fans. It comes out really well wherever you take pictures inside. Visit Baekbanggu to buy special props, take pictures with your favorite characters, and try to draw lots where everyone becomes the winner.

Opening Hours

Closed : Monday