Lost in the fragrance of full-blown spring flowers Spring
Filled with the scent of spring Flower Tour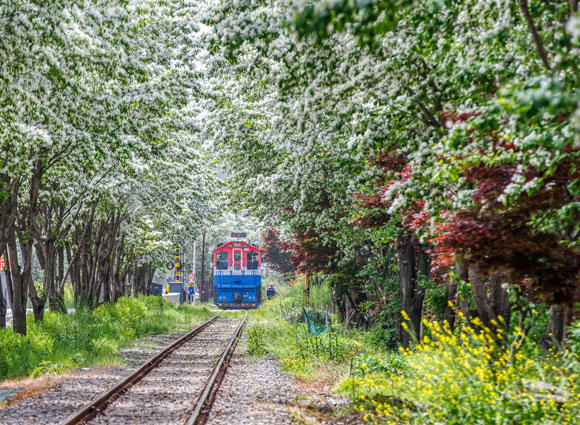 Asian Fringe Trees lined up along the Palbok-dong Railroad
On a brilliant May day, look up the sky under the Asian Fringe trees lined up along the Palbok-dong Railroad. The white blossoms of Asian fringe trees are under the light jade sky, and the yellowish-green leaves hang down over the mint-colored cargo train running on the tracks. This place is full of life with the dazzling blossoms of Asian Fringe trees in May.
Around 260-3, Palbok-dong 1-ga, Deokjin-gu, Jeonju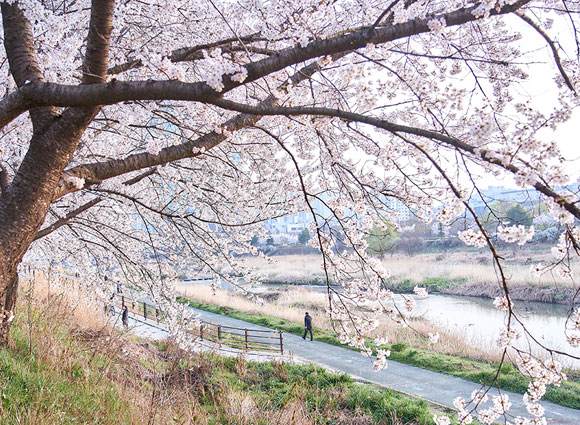 Samcheonbyeon Cherry Blossom Road
Running from The Sharp Apartment in Hyoja-dong to Hyundai iPark, Cherry Blossom Road creates more exclusive scenery than any famous site with cherry blossoms in Korea. Have time for healing as you walk slowly or appreciate the scenery while driving on the road. This is a must-visit place. The nightscape along the road will present picturesque beauty which nobody can forget.
Around 709, Hyoja-dong 1-ga, Wansan-gu, Jeonju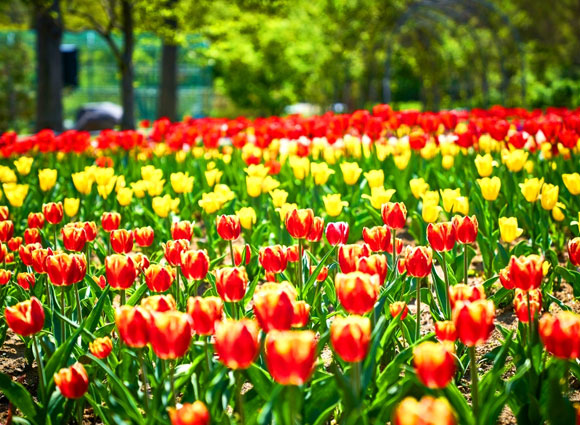 Jeonju Arboretum, the Holy Ground of Spring Flowers
The Jeonju Arboretum, operated by Korea Expressway Corporation, is renowned for healing, where Jeonju citizens frequently visit with their families, sweethearts, or friends. In particular, the arboretum greets the most tourists in spring. Its colony of beautiful plants is enough to wow visitors. The arboretum is the holy ground of flowers, including peonies, giant garlic, Asian Fringe trees, tulips, poppies, and roses.
Jeonju Arboretum, 462-45, Beonyeong-ro, Deokjin-gu, Jeonju
Winter Season (Sep. 16-Mar. 14) 9:00-18:00

(admission closes at 17:00)


Summer Season (Mar. 15-Sep. 15) 9:00-19:00

(admission closes at 18:00)


Closed: every Monday, New Year's Day, and Korean Thanksgiving Day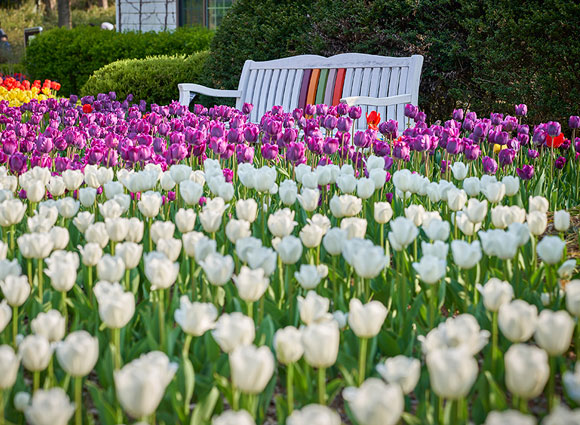 Jeonju Zoo, Tulip Garden
A tulip means the confession of love, perfect and eternal love in the language of flowers.
In April, the Tulip Garden in the Jeonju Zoo is filled with confessions of love among shy sweethearts promising eternal love.
When the full-petaled tulips of various colors open their buds, you must visit the Tulip Garden.
Jeonju Zoo, 68, Sori-ro, Deokjin-gu, Jeonju, Jeollabuk-do
09:00-19:00 every day (Mar.-Oct. )

Ticketing closes at 18:00


09:00 - 18:00every day (Nov.-Feb.)

Ticketing closes at 17:00