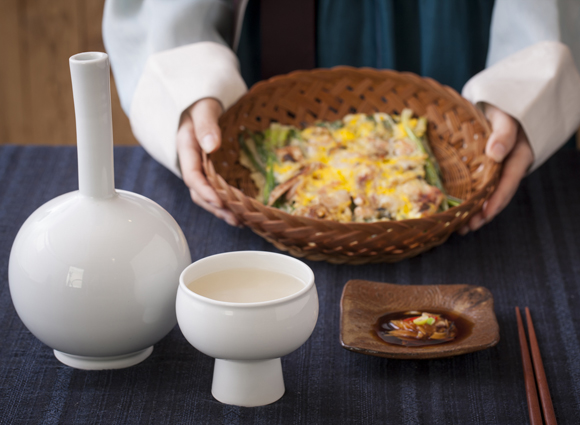 Wellbeing liquor, Maokgeolli
Makgeolli is by no means inferior to any other liquor and is a well-being food because of the low alcohol content and rich nutrients. Makgeolli contains more protein than other liquors. Moreover, Makgeolli contains 10 essential amino acids and vitamin B, which is good for the skin. In addition, a bottle of Makgeolli contains 70 to 80 billion lactobacilli, and the naturally fermented food has rich active enzymes and dietary fibers. Thus, it is said that Makgeolli is not liquor but food.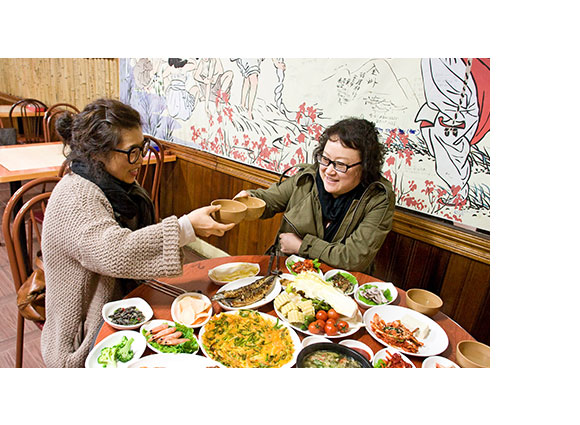 Reminding friends
Jeonju Makgeolli Alley
No need to think about side dishes. No time to order
Just shout, 'ma'am, a jar of Makgeolli!', and the table will be immediately filled with lots of side dishes. Your eyes and mouth will feel so excited. That's not all. After finishing a jar of Makgeolli, order another jar of Makgeolli, and your table will be immediately filled with new side dishes. The third jar will bring even more new side dishes!
- - Happiest Journey in My Life' 10th Planet, Association of Korea Travel Writers, 2006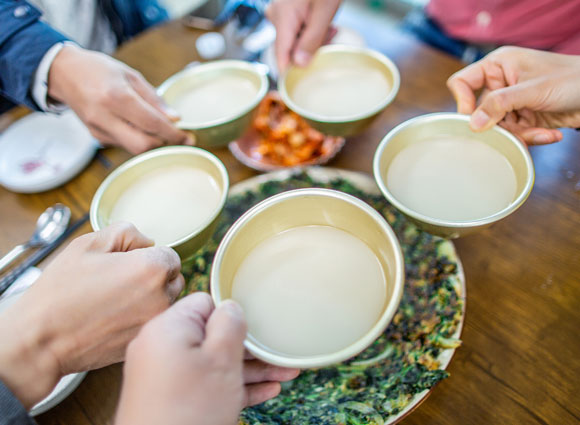 Fully appreciate Jeonju Makgeolli
Use public transportation, including taxis or buses. Drink and eat until feeling full without any worries of drunk driving.
Good when you feel a little hungry. Taste an abundance of side dishes until full.
Enjoy the diversity and advancement of side dishes which are changed whenever you finish a jar of Makgeolli. Even the supplemented side dishes are changed. The generosity of the pub owner comes from the alcohol tolerance of a customer.
Side dishes in Makgeolli Town in Samcheon-Dong, Seosin-dong, and Gyeongwon-dong are all different. Enjoy the uniqueness of Jeonju Makgeolli Town per district.
Drink clear liquor if you want to try the unique taste of Jeonju- raw rice wine with clear liquor! Fun to choose, depending on taste. No need to feel guilty even when mixing and drinking liquors!
'Mainstream' and "Non-Mainstream,' Jeonju, the Land of Win-Win
'Mainstream' and 'non-mainstream' did not exist from the beginning of the world. Dividing mainstream and non-mainstream is confined to a democratic society.
Nothing is desired when naming Jeonju the 'City of Equality, Peace, and Coexistence. So Bibimbap and Maokgeolli are symbols of unity. The place where 'non-mainstream' intensively attacks only side dishes and 'mainstream' finishes several jars of Makgeolli as well as the outpouring of side dishes.
You will not be drunk after drinking Jeonju Makgeolli, but you will be drunk without drinking Makgeolli.
Get drunk by the excitement of drinking Makgeolli, with unique and fresh taste of liquor, by the generous side dishes, by cheap prices, and finally by affection.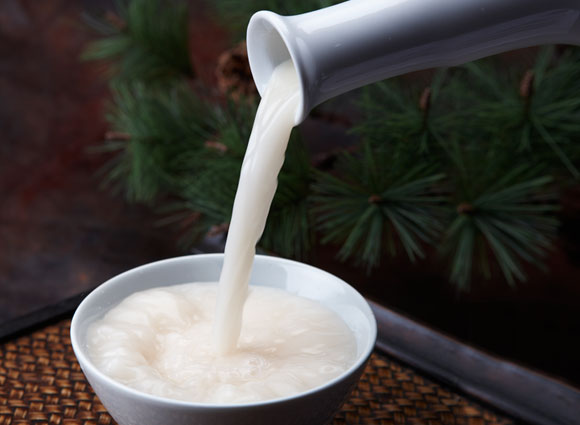 Makgeolli is life and culture.
Jeonju Makgeolli is one of the Top 3 Makgeollis of Korea. It represents 'Jeonju, the city of gourmets' and Bibimbap, Korean Table d'Hote, and bean sprout soup with rice.
Makgeolli is liquor but is not strong. Makgeolli relieves hunger, invigorates the body, and removes any resentment when drinking with several friends. So, the dignity and virtue of Makgeolli are like the warm heart of Koreans.
Thus, Makgeolli is the soul food of Koreans, which can't be simply considered just as liquor. Makgeolli is the life and culture of your hometown and memory.
+
Brewed by myself
Gayangju, the liquor of Koreans.
'Gayangju' means the unique liquor of the Koreans or the liquor which each house brewed for ancestral rites and to serve to visitors during the Joseon period.
Without any chemical additives, Gayangju flourished due to the Confucian and farming culture during the Joseon period. Brewed with natural ingredients, Gayangju emits the scent of fruits and flowers and boasts diverse tastes, including sweet, sour, and savory.