Jeonju Cultural Heritage Night Tour
The Jeonju Cultural Heritage Night Tour presents the opportunity to appreciate the most beautiful view of Jeonjuin Gyeonggijeon Hall at night. The Jeonju Cultural Heritage Night Tour is listed as one of the Top 100 Night Tours by the Korea Tourism Organization in 2020 and is a must-visit attraction! A whole new world is opened as soon as you pass the entrance of Gyeonggijeon Hall, embroidered with lights of various colors.
DateEvery summer (May- Aug.), every winter (Sep.-Oct.)
Venuearound the Jeonju Hanok Village
OrganizersCultural Heritage Administration, Jeollabuk-do Provincial Government, Jeonju Municipal Government
InquiryCulture and Art Workshop, Dongbu Market, 3 Eunhaeng-ro, Wansan-gu, Jeonju, Jeollabuk-do(063-232-9938)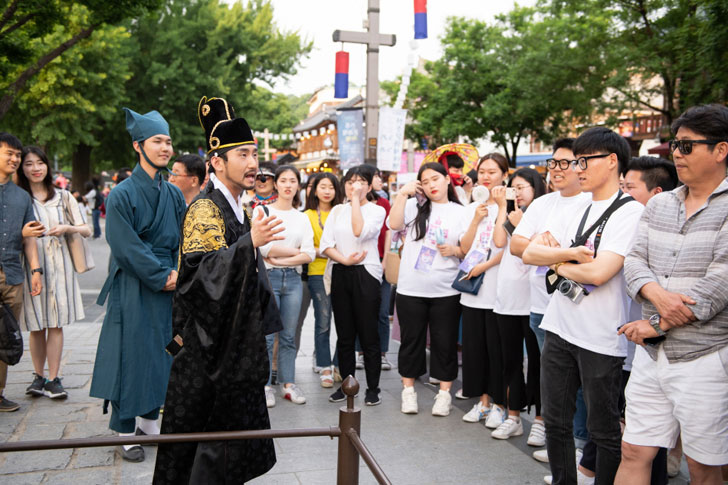 The old stories told by a king and a poetic mood can be brought through a leaf in Gyeonggijeon Hall. Walk in Gyeonggijeon Hall under the moonlight, and the fatigue from daily life disappears before you know it, and the beautiful night of Jeonju comes to you as a special gift.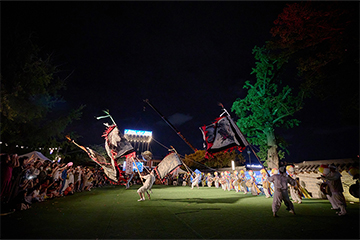 There are five Night Tours available. Three zones in Gyeonggijeon Hall and the Jeollagamyeong Provincial Office require advanced booking. The remaining zone (around Gyeonggijeon Hall – plaza and stonewall on the east) is opened for those who visit the site to enjoy night scenery, but the admission is restricted. Moreover, the night tours will show the true look of Jeonju through a variety of contents, including experience and challenge programs and events.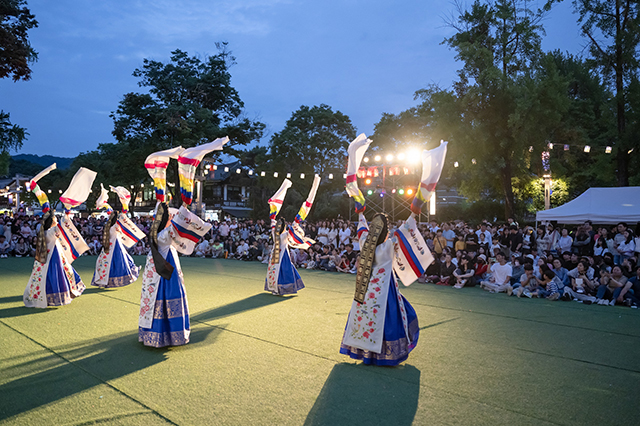 Tour of Jeonju Night with 8 Magicians.
There are a variety of programs. These include Nightscape (cultural heritage highlighted at night), Night Road (the story of kings told while walking the street at night with the cultural heritage magician), Night History (history told by the story magician at night), Night Drawing (Joseon-style caricatures, a special gift by the drawing magician), Night Performance (splendid performances by the performance magician), Night Food (traditional food of Jeonju served by the food magician), Night Accommodation (Hanok stay for one night. There is also a Night Market where you can trade stories while looking around objects created by bargain magicians.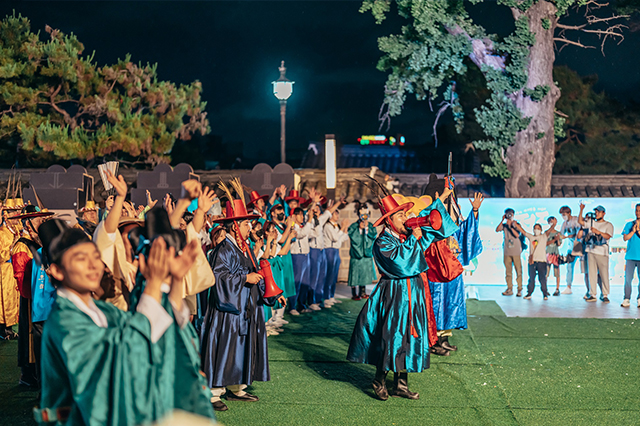 Jeonju Cultural Heritage Night Tours were selected as the Best Night Tours by the Cultural Heritage Administration and as Top 100 Night Tours and must-visit attractions by the Korea Tourism Organization. The Jeonju Cultural Heritage Night Tours attract citizens and tourists with unique experiences as the festival shows works from local artists and youths. Let's go to the Hanok Village on a midsummer of a serene autumn night.