Time to meet the real Jeonju!
A record tour in the original downtown
of Jeonju Your own Jeonju
Introducing the "Jeonju Living Tourism Record Tour 'Your Own Jeonju'", a travel program
where you can spend a special day in the original downtown of Jeonju and meet the 'real Jeonju'.
Through various programs and missions designed around the unique culture and history of Jeonju,
you can feel Jeonju directly for 3 days and 2 nights and share the lives of locals,
and the purpose alone already stimulates the desire of travelers.
This program is held every Thursday through Saturday from July to December (reservation required),
and is expected to attract a lot of attention from now on.
To meet the real Jeonju, on the 1st day, you can tour the original downtown area of ​​Jeonju,
watch Korean traditional music performances, and experience Pansori.
On the 2nd day, the Wanpanbon Cultural Center experience and the Jeonju Fan Museum experience,
On the 3rd day, the mission 'Touch the heart of Bobusang' is carried out by buying goods at the Nambusijang Market.
Anything else to see other than Jeonju Hanokmaeul Village?

Jeonju original downtown local tour & Pansori experience

Coming to Jeonju ambitiously and just planning your trip only to Hanokmaeul Village and Gaeknidan-gil, you must be a beginner! There are so many things to see, feel and enjoy in Jeonju. 'Your own Jeonju' is perfect for those who are lazy to check out each spot! On the 1st day of the trip, check-in is the most important part of the trip. It is said that it provides a quiet and snug Hanok accommodation rather than a regular accommodation, and it is divided into two parts, 'Igahanok' and 'Deoksugung', depending on the circumstances of each session. After taking a short break with excitement, the regular schedule begins at 4 pm.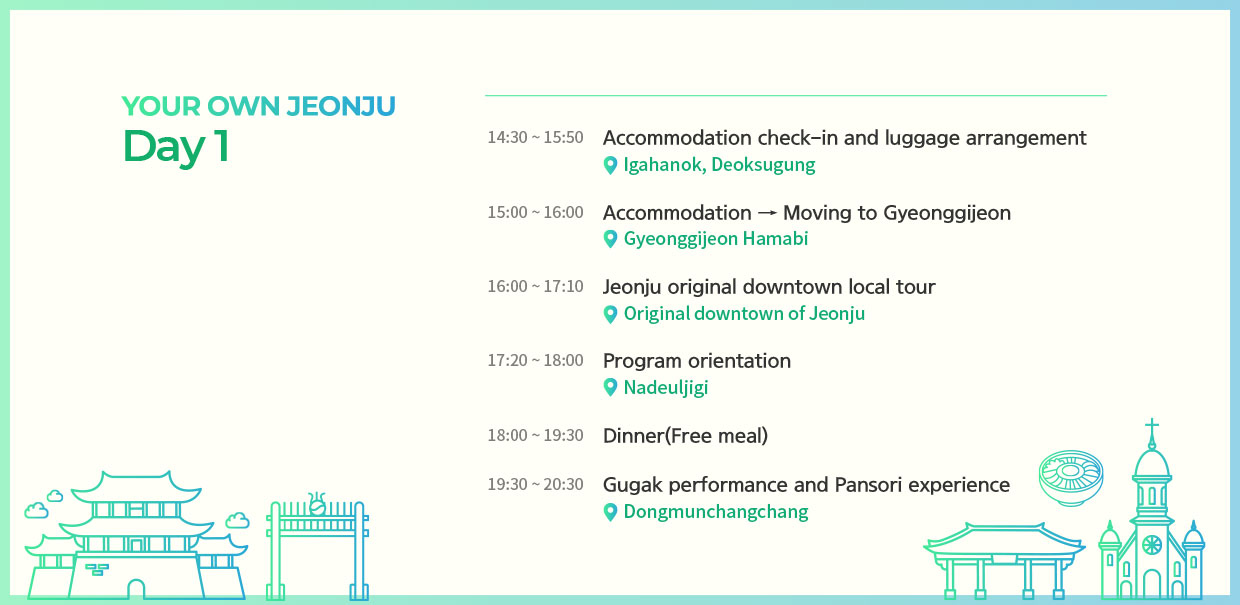 Trip into the Past leaving for Jeonju
The 'Jeonju Original Downtown Local Tour' is to trip into the past leaving for Jeonju, where a guide will tour every part such as Gyeonggijeon, Jeondong Catholic Cathedral, Pungnammun, and Jeollagamyeong, telling the story of the origins and roles of major cultural assets and attractions. In particular, the guide's commentary is based on the concept of the Joseon Dynasty, which is more distinctive than common commentary programs, and it is immersive with clear explanations and popping wit, so you can easily and deeply learn the history of Jeonju.
Tour course

Gyeonggijeon > Jeondong Catholic Cathedral > Pungnammun > Jeonjugojido(Old Jeonju map) > Jeollagamyeong > Jeonju Chinese Elementary School > Daga Tourist Library > Former Bakdaok Building > Nadeuljigi
Duration

1 hour 30 minutes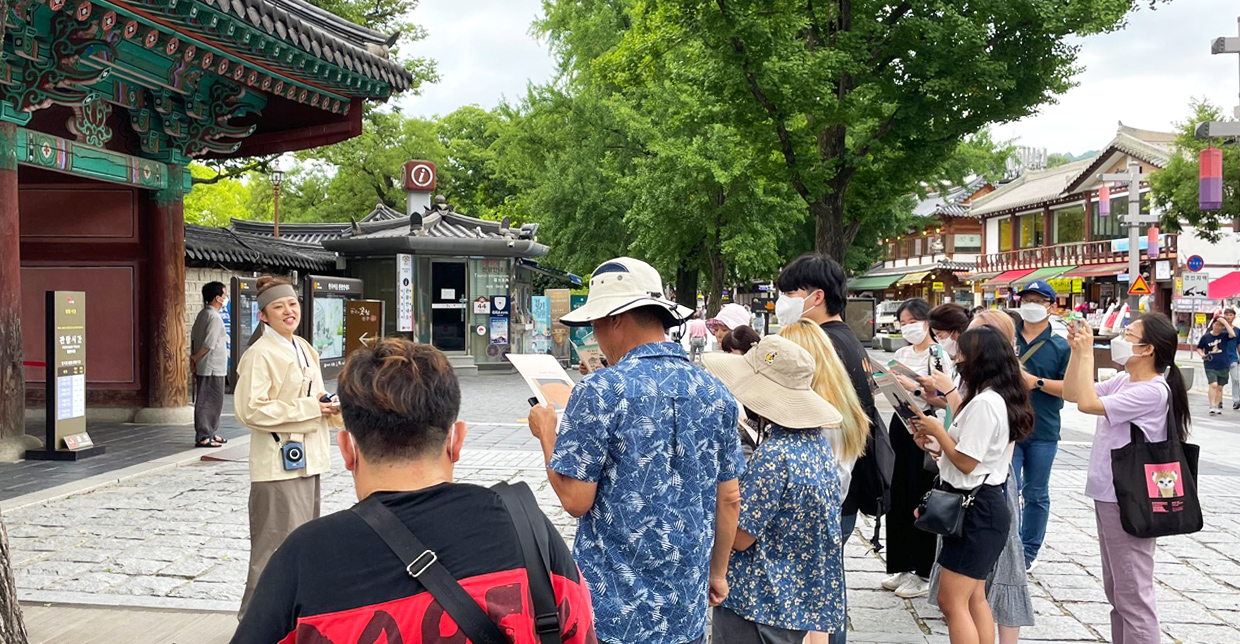 Gyeonggijeon shrine is the place where the portrait of King Taejo Lee Seong-gye, designated as a national treasure, is enshrined, and Jeondong Catholic Church is one of the representative landmarks in Jeonju Hanokmaeul Village, and it is said that it was designed by Father Poisnel, who built Myeongdong Cathedral, and built in 1914. It is the oldest church in Jeonju, and it creates an antique atmosphere by combining Romanesque and Byzantine styles.

Pungnammun, a must-go spot, is the only remaining south gate among the four main gates that enter and exit Jeonjubuseong(Jeonjueupseong). The phrase "Honamjeilseong" engraved on the signboard doubles the grandeur. If you walk along the alley along Pungnammun, you will come across Jeonjugojido(Old Jeonju map), which fills the wall of the Wansan Police Station, depicting Gyeonggijeon and the four gates of Jeonjubuseong surrounded by bamboo forests centered on Jeollabuk-do in the 18th century. Directly opposite Jeollagamyeong is a regional government office that oversees Jeolla-do, and it was located in Jeonju throughout the 500 years of the Joseon Dynasty and had jurisdiction over Jeolla-do and Jeju-do. Jeolla Gamyeong, including Seonhwadang (宣化堂), the office of the Jeolla inspectorate, immediately reveals its majestic appearance as if it contained the status of Jeonju at that time.

The next spot is Chinatown, which was established around Daga-dong area through sisterhood relationship with Suzhou city, China in 1996, and you can meet traces of life in the 1960s and 1970s when many Chinese lived. The harmony between various sculptures reminiscent of Chinese streets and the fan-patterned floor that symbolizes Jeonju further enhances the sense of style.
Pansori experience in Jeonju, the hometown of sound
After having a free dinner time, you pass through a small gate and enter a stylish hanok. Song Bong-geum, the owner and singer of "Dongmun Changchang," is said to have run this place to create an art space containing customs and culture so that many people can freely learn and enjoy pansori in Jeonju, where they were born and raised.
The opportunity to learn traditional art directly is rare for anyone, and it was very interesting from the moment I sat down because it was a pansori experience with a master singer. Starting with the basic knowledge of Pansori, he played a familiar "love song" to the public, and I could feel sincerity, emotion, pride and pride in the sound. All the participants enjoyed the experience as one by putting in the chimes. It was a beneficial time to hear and learn even a verse of our voice through the record tour, and it was an hour that made me feel proud because I could feel that our tradition was continuing.
Jeonju, where tradition lives on

Wanpanbon Cultural Center & Fan Museum Experience

Wanpanbon Cultural Center Experience, the Center of Recording Culture
The Wanpanbon Cultural Center preserves the cultural heritage of publishing created in the Jeonju region and informs the history and culture of Jeonju, the center of publishing culture and the cradle of documentary culture. At that time, some representative books such as Jujudaejeon and Donguibogam were selected and exhibited, as well as the active printing techniques of Jeonju, and you can meet various experiences and traditional cultural products. Wanpanbon refers to the old books and woodblock prints published in Jeonju (Wansan), the former capital of Jeolla-do, and is the cultural heritage of Jeonju. In addition, it is said to have great value in the history of publishing culture in that it contributed to the spread and dissemination of Hangeul through the distribution of classical novels.

After completing the study on the Wanpanbon, the woodblock printing experience allows you to choose one of Hunminjeongeum and Tiger according to your taste after listening to a brief explanation of the culture of recording. The scent of ink that is carefully applied on the wooden board using a brush reminds adults of old memories and seems to stimulate curiosity in children. Now, place the Korean paper on the wooden board, press it, and gently rub it with a trembling heart and you're done! Although the process is simple, it is a valuable experience that allows you to experience the process of retrieval indirectly, so it was an experience that reminded you of the importance of publications that can be easily turned over page by page.

Next, the Hanji Postcard Experience is to select one of the various postcards with the original woodblock prints and texts printed on Korean paper with ink and color them with paint to complete your own oriental picture postcards. After listening to the instructions on how to color, you can color freely and carefully. Even the envelope of the postcard is folded directly with Jeonju Hanji, which doubles the specialness. The teacher said that if ink and Korean paper meet, they can be stored for 1,000 years. This time, I would like to take this opportunity to convey the feelings that I have not been able to convey to my loved ones in a postcard.
Jeonju, the hometown of fans, Fan Museum Experience
Since ancient times, Jeonju has been famous for hanji and bamboo, making it the home of fans and the site of the history of the existence of Seonjacheong, a government office that made and managed fans during the Joseon Dynasty. The fan museum contains the cultural and historical values ​​of Jeonju fan and the artistic spirit of artisans. We could see the splendid heyday of fans such as hapjukseon and Jeobbuchae(folding fan), which were cherished items expressing the status of scholars in the Joseon Dynasty, when there were no air conditioners or automatic fans. IIt was interesting and impressive information that a fan was a sign of identity.

In a separate experience space, you can make your own wind through the fan-making experience, which is perfect for the summer season in August. On the Jeopseon(folding fan), which is attractive to spread and fold, the branches are beautifully drawn with ink, and if you attach Hanj(Korean paper) petals one by one, a wonderful plum tree is completed. If you want something a little more, you can write your favorite poems or phrases with a brush pen. The fan made during the experience was very useful for the rest of the itinerary, and it will be a cherished item throughout the summer!
Nadeuljigi, Nambusijang Market.

Touch the heart of Bobusang!

At 10 a.m., at Pungnammun Square, the gathering place, Bobusang with a clear claim, "I am a Bobusang", is waiting for anyone to see. 'Touch the heart of Bobusang' is to buy goods with their own stories at Nambusijang Market, the largest market in Honam, with 10,000 won Onnuri gift card(voucher) given by Bobusang and tell the story to Bobusang. The mission to induce meaningful consumption by each traveler in the market by using local gift card(voucher) seems like a really good idea.

Travelers, who just start to feel motivated by the typical dialect and the skillful progress of the witty Bobusang, enter the market to shop to create their own story. They naturally take a look around the Nambusijang Market and Youth Mall, pondering what kind of story should be included to make shopping a full and differentiated shopping experience. If they were in normal, this would be good! That's good! It would have been easy to over-consumption, but it made them think carefully because of the mission. Nambusijang Market has so many restaurants that attract attention every step of the way, but since it is a mission through a record tour, they chose practical traditional props because they would want to buy symbolic items to record their Jeonju trip.

After all the travelers have finished shopping, they gather in Nadeuljigi and have a time to talk about the things they have purchased. Onnuri gift card(voucher) were additionally presented if a novel or meaningful story moved the Bobusang's heart. They can't stop laughing while listening to stories and souvenirs as diverse as travelers, such as Moju, instant laver, and frying pans. In addition to this, various prizes would be provided through small events to end the trip in a pleasant way.
Welcome kit for Experience participants
Your Own Jeonju Participant Diary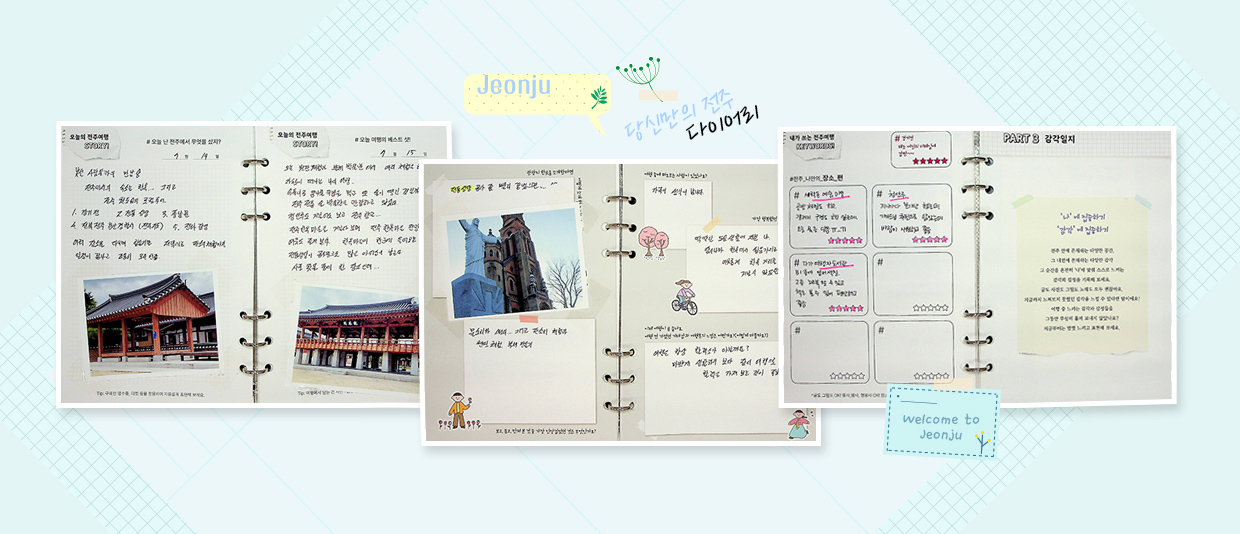 Round information
A table showing the period of discrimination
Round
Period
1st
06.30(Thu.) ~ 07.02(Sat.)
2nd
07.07(Thu.) ~ 07.09(Sat.)
3rd
07.14(Thu.) ~ 07.16(Sat.)
4th
07.21(Thu.) ~ 07.23(Sat.)
07.25 ~ 08.15 Break time
5th
08.18(Thu.) ~ 08.20(Sat.)
6th
08.25(Thu.) ~ 08.27(Sat.)
7th
09.01(Thu.) ~ 09.03(Sat.)
09.09 ~ 09.12 Break time
8th
09.15(Thu.) ~ 09.18(Sat.)
A table showing the period of discrimination

| Round | Period |
| --- | --- |
| 9th | 09.22(Thu.) ~ 09.24(Sat.) |
| 10th | 09.29(Thu.) ~ 10.01(Sat.) |
| 11th | 10.06(Thu.) ~ 10.08(Sat.) |
| 12th | 10.13(Thu.) ~ 10.15(Sat.) |
| 13th | 10.20(Thu.) ~ 10.22(Sat.) |
| 14th | 10.27(Thu.) ~ 10.29(Sat.) |
| 15th | 11.03(Thu.) ~ 11.05(Sat.) |
| 16th | 11.10(Thu.) ~ 11.12(Sat.) |
| 17th | 11.17(Thu.) ~ 11.19(Sat.) |
| 18th | 11.24(Thu.) ~ 11.26(Sat.) |
※ The round schedule is subject to change.
Tel

+82-10-9836-5412 / acb200512@gmail.com
Location

1F, Nadeuljigi, 22-1 Jeollagamyeong 4-gil, Wansan-gu, Jeonju, Jeollabuk-do Map View
Make a reservation at Naver Store
See the review
Original Downtown of Jeonju Local Tour

Good to learn about the various cultures of Jeonju! And especially good to know why Jeollagamyeong and Hanokmaeul Village were created.

Kim○○

I felt it was very useful to know about the history of Jeonju that I had overlooked without interest.

Hwang○○

Able to hear various stories in a short time with simple and clear explanations.

Kim○○

It was more immersive and interesting than a regular guided tour.

Gong○○
Jeonju Future Heritage Exploration Team

It was the best experience for me. A good idea for an experience that can visit and travel around Jeonju!

Kim○○

So interesting to study and learn about Jeonju in the process of searching to find the mission location, and I was able to wander around the Hanokmaeul Village to the fullest.

Gong○○

There are several Jeonju Future Heritages, and by providing rewards according to the number of them, my willpower has increased, and I have developed a high interest in Jeonju Future Heritage.

Hong○○
Your own Jeonju (record in diary)

It was good to me because it was a time to think about and write down things that I had never thought about before, and it was nice to be able to decorate my diary while drawing and writing.

Kim○○

Very funny to write a picture diary, and it was nice to be able to print photos I took while traveling.

Ma○○

Can write down the thoughts and emotions that come to mind at that time in a diary, so anyone can remember this city for a long time.

○○○

I was able to reflect on the meaning of the record tour because I had to write down what I felt, what I liked, and what remained of me while organizing my diary.

○○○
Touch the heart of Bobusang!

It was nicely fun to go around Nambusijang Market to find things in Jeonju, and it was a fun to buy things to make a good story.

Kim○○

I liked the idea of ​​a virtuous cycle where, in addition to the fun process of the Bobusang, an Onnuri voucher was provided for the market tour so that they could see the market and consume it locally.

Hong○○

Satisfaction is the best! It was nice to see every corner of the market.

Park○○
Gugak performance and Pansori experience

It was a performance that I never expected to hear even when I came to Jeonju, but it was a great time to listen to and learn even one verse of our Korean traditional music through the tour.

Yoon○○

It was nice to be able to experience Pansori, which I thought was difficult, in an easy and fun way.

Oh○○

It is a customized program that fits well with the characteristics of the region, and the experience of working directly with the audience was very beneficial.

Park○○
Wanpanbon Cultural Center Woodblock Printing Experience, Woodblock Printing Hanji Postcard Experience

Thanks to the systematic experience and friendly staff, I had a fun experience of making rubbish and decorating postcards in Jeonju, the home of Korean paper.

Hong○○

It felt like returning to my childhood after a long time during the experience. I think today's trip and place will be remembered for 1000 years like Hanji which has more than 1000 years of preservation.

Choi○○

New facts and historical stories related to printing were interesting.

Hwang○○
Jeonju Fan Museum Experience

I was able to learn why Jeonju is famous for its fans through this opportunity, and it was nice to be able to make my own fans.

Kim○○

It was impressive to be able to visit the site where the tradition is being passed down, hear the explanation and experience it.

Gong○○