Enjoy Jeonju 100%, City of Tradition, Culture, and Festivals
Everyone's Festival in Jeonju
Filled with Heat of Cultural Events
Jeonju, which had been dampened by the long pandemic, overcame the crisis and
woke up as a city of tradition, culture, and festivals.
Jeonju, which creates a new culture through various contents, is filled with heat as a venue for festivals for travelers.
Feel lively Jeonju with your whole body through cultural festivals where both men and women of all ages are together.
From the JIFF(Jeonju International Film Festival), which marks the beginning of the film festivals,
the Hanji Culture Festival, which reinterprets various functions of hanji to promote its cultural value,
and various cultural events to enjoy and feel Jeonju
under the theme of Joseon's history in Jeonju are prepared.
From now on, let's go on a trip where you can fully enjoy Jeonju, a city of tradition, culture, and festivals.
Beginning of Festival Felt on Crowded Street

JIFF Street Filled With Festival Fever

The 23rd JIFF was held as a normalized offline event for the first time in years. The annual festival, which was limited for several years during the pandemic, has finally come to share its heat. Anyone who loves movies, as well as Jeonju citizens, can enjoy the festival. The opening, closing, and awarding ceremonies of the JIFF take place at Jeonju Dome.

If you walk through the JIFF street that starts from Ogeori(five-way intersection), you will reach Jeonju Dome. Various installation information and goods sales booths are also prepared around the place, making it fun to look around. I was also looking forward to the festival as it comes only once a year, and am enjoying it as fun and beneficial as expected. Let's go to enjoy the heat of the JIFF, where the charm of Jeonju is added!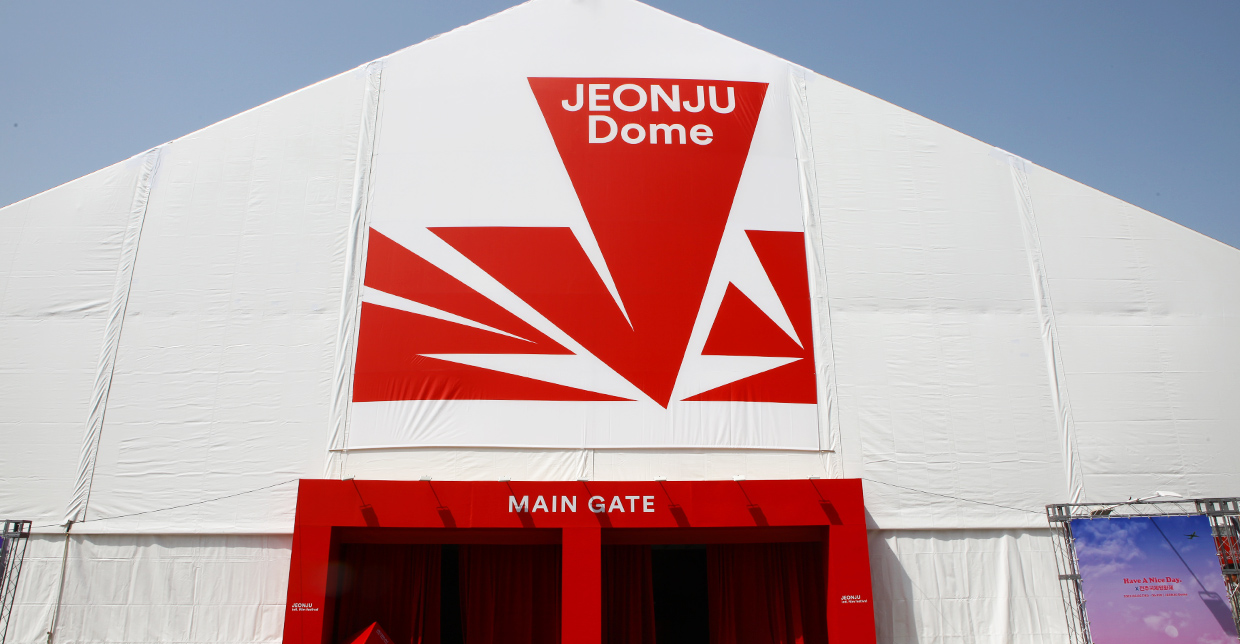 Films with Various Themes in Various Theaters!
We can watch various films that even famous directors are interested in at the JIFF theaters after pre-booking. JIFF, Which marks its 23rd anniversary this year, is screening films of various themes on 19 screens in 5 theaters in downtown Jeonju for about 10 days until the upcoming 7th. Wouldn't it be an event that anyone who had regrets about not being able to watch movies offline for the past two years during the pandemic be looking forward to?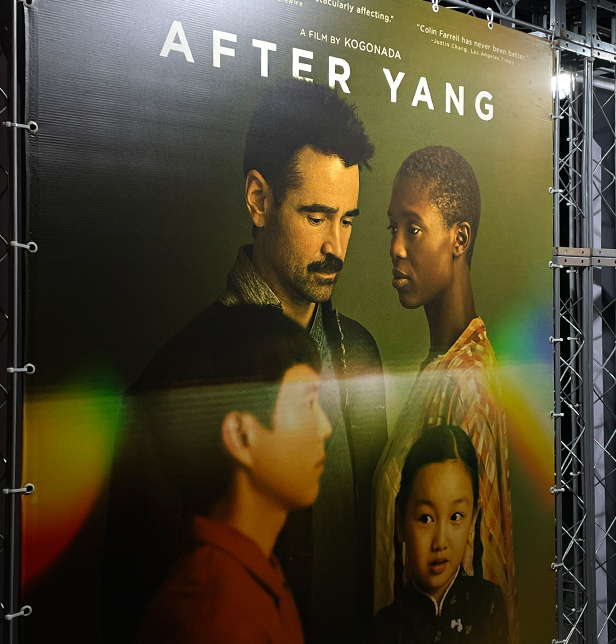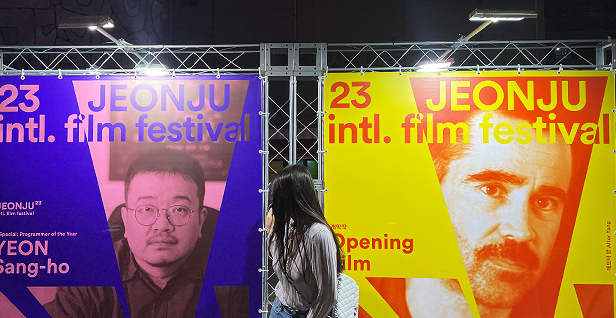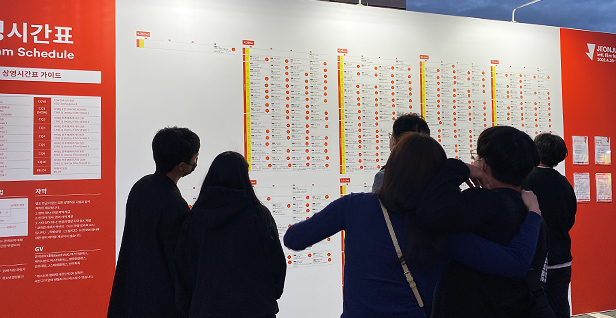 Let's meet the films that are expected by the audience in various theaters. Among the various masterpieces, the films such as 'Cure' directed by Kurosao Kiyoshi, which was recommended by director Bong Joon-ho, and 'Disappearance' directed by Katamaya Shinjo, which has a deep relationship with Korea are the most wanted to watch. Various films that are screened for the first time at the JIFF are also waiting for us.
Meeting of Film and Illustration, 100 Films 100 Posters
One of the notable events at the JIFF is the exhibition of movie posters, "100 Films 100 Posters". 100 illustrators are exhibiting posters showing their personalities in about 100 films screened at the festival. The exhibition of new works created by film and illustration is a meeting of art and art. "100 Films 100 Poster" offers a chance to meet unique posters of the films screened for the first time in Korea. There are 104 posters attached to the walls of the large exhibition hall. You can watch the exhibition more meaningfully if you visit after watching the films screened at the JIFF. You can also purchase posters that you are interested in separately, so the visit is highly recommended.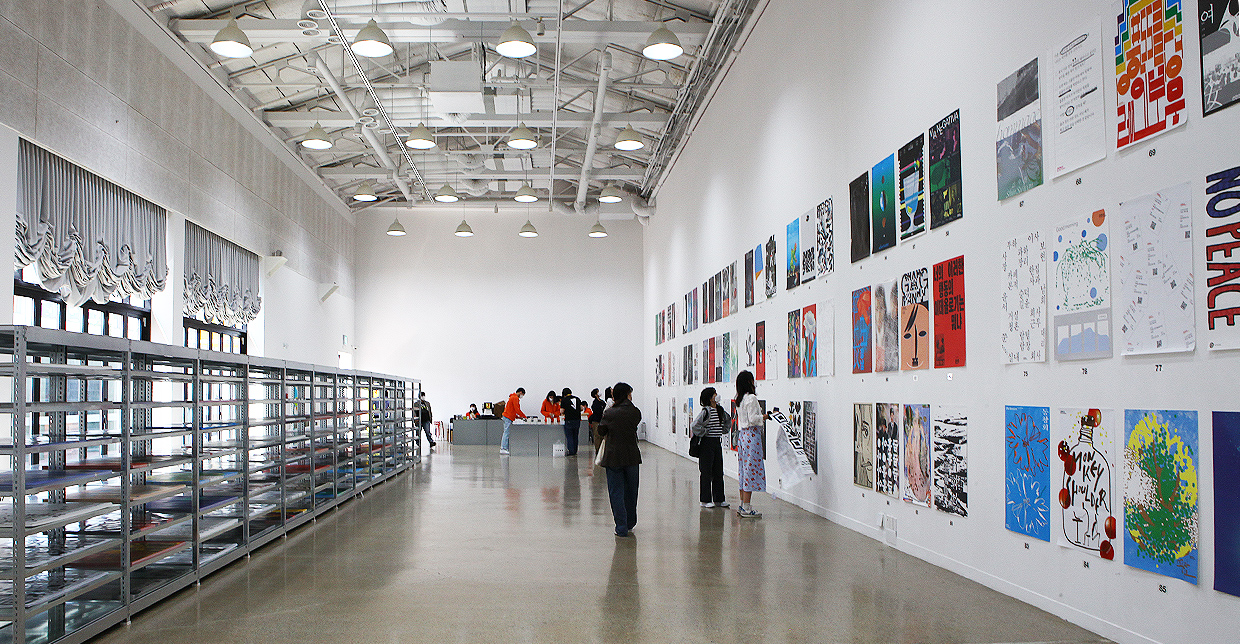 It is a meaningful exhibition event that allows you to enjoy the works that films are reinterpreted as illustrations, experience the films in various ways, and interpret the meaning of the work on your own.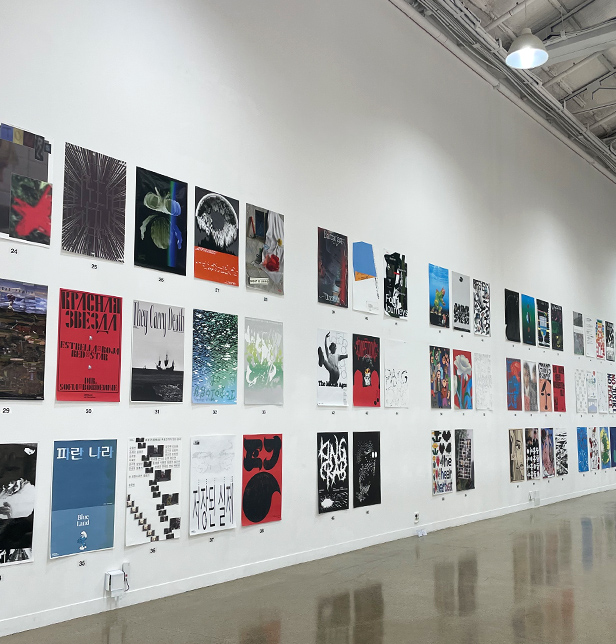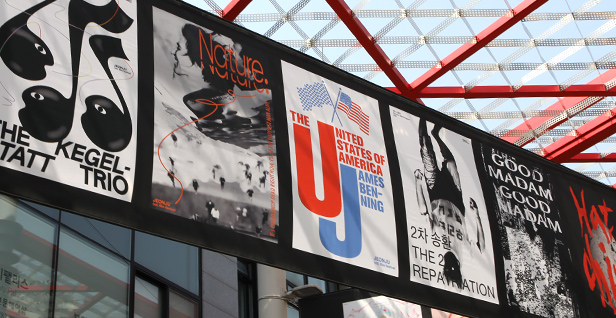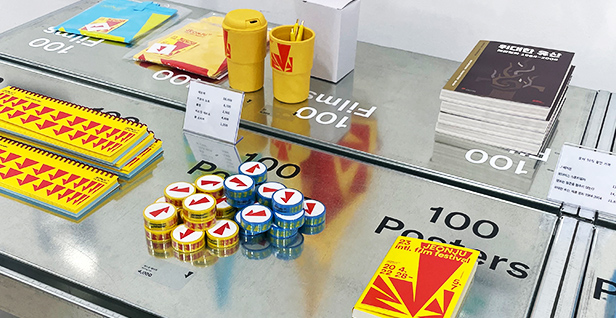 JIFF that Everyone Enjoys Together
Once a year, the JIFF is held from late April to early May. On the first day of the opening ceremony, downtown Jeonju is crowded with people from all over the country to enjoy the appearance of many celebrities and the beginning of the festival. It is a time for movie lovers to get together and watch movies from morning to evening, and have a conversation about their appreciation of the movies. During that time, you can be friends through movies even if you haven't known each other until then.
JIFF, a festival for movie lovers which connects hearts to hearts and becomes a window of communication. Why don't you spend time feeling the festival with your whole body and enjoying various events held on JIFF street?
Location

183 Gosa-dong, Wansan-gu, Jeonju-si, Jeollabuk-do View Maps
Website

https://eng.jeonjufest.kr/ Visit site
Reinterpretation of Various Functions of Hanji

Jeonju Hanji Culture Festival Promoting Hanji's Cultural Value

Jeonju Hanji Culture Festival, one of the annual Jeonju city events, returned in 2022 with the ease of the pandemic. The theme of the event is 'Enjoy Hanji, Play with Hanji'.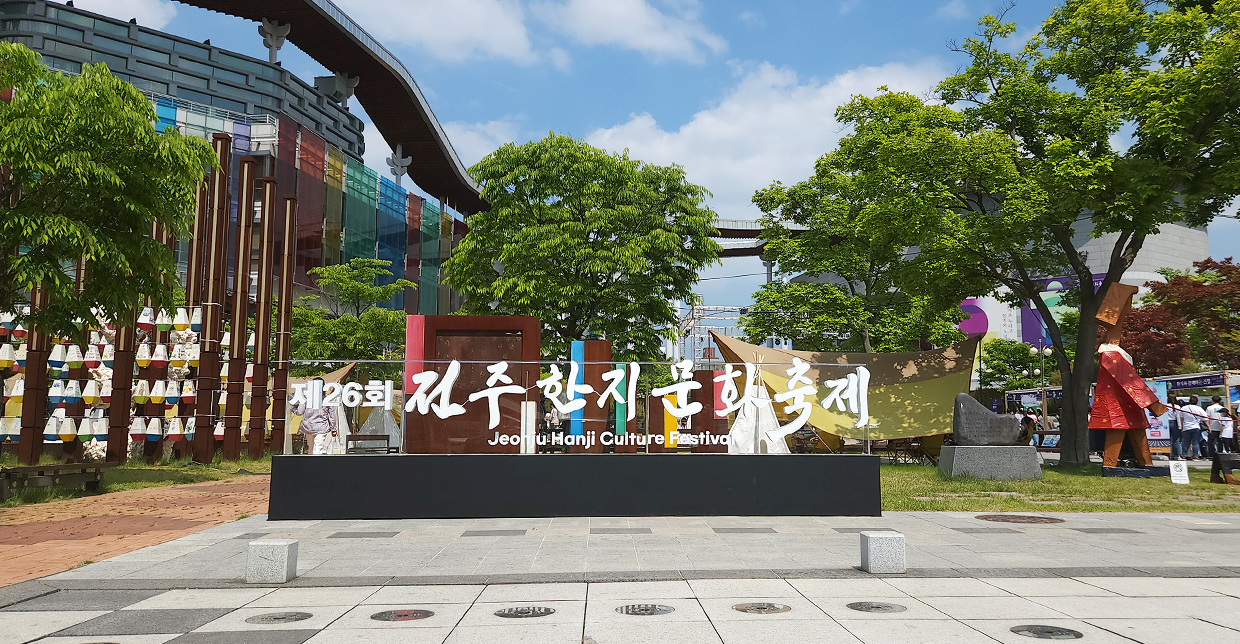 It is very meaningful that Jeonju Hanji Culture Festival is completed through the participation of citizens, such as exhibitions of works from hanji craft competition, and hanji fashion show, which is held in hanji costumes made by citizens. The festival marked its splendid beginning with events such as the opening ceremony and fashion show. It is full of various programs, attractions, and things to enjoy, including papering sliding doors of Subokcheng and Gyeongdeokhan, which are attached buildings of Gyeonggijeon, special lectures on Jeonju Hanji, and Hanji quiz.
Let's hang out with hanji at Korea Traditional Culture Center.
Message in Hanji Met in Various Exhibitions
Hanji is a paper made in a traditional Korean way by processing mulberry. Jeonju Hanji Culture Festival promotes the excellence of Jeonju hanji with million years of tradition. It also plays a role in discovering outstanding craftsmen across the country through the traditional hanji craft competition. From paintings containing children's creativity and imagination, you can also appreciate the beauty of hanji crafts presented by craftsmen.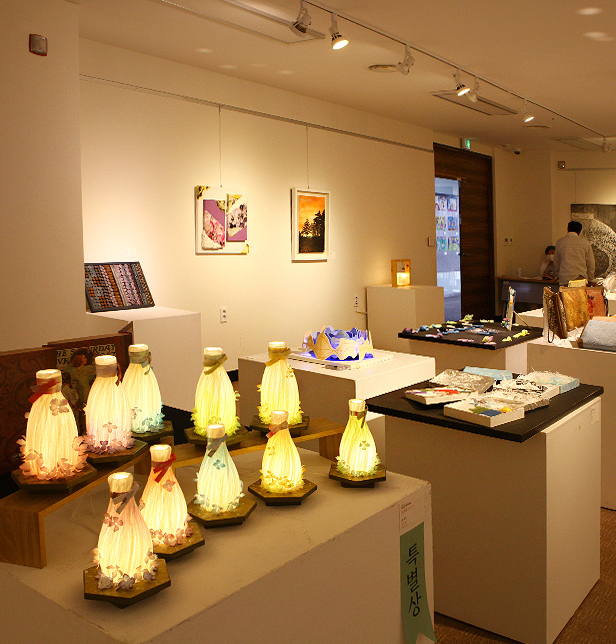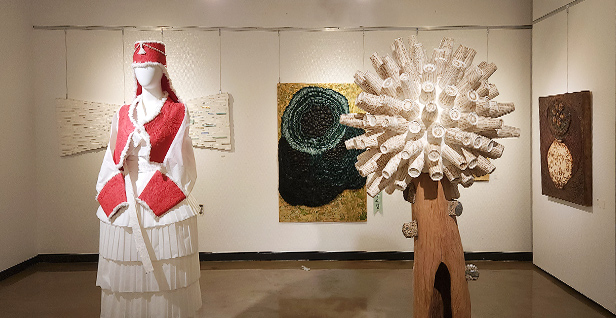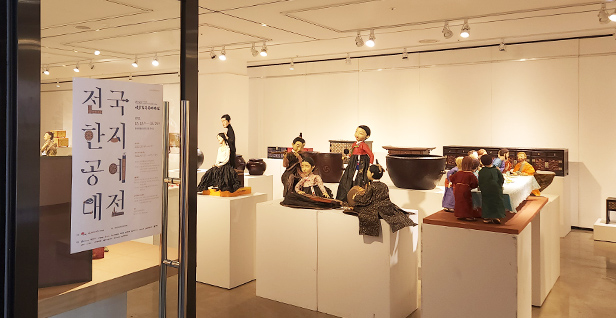 Artworks created by utilizing the unique color and texture of hanji are more colorful with the addition of three-dimensional effect. The works on display show various expressions, making it hard to believe that they are actually made of paper. Hanji's various functional characteristics and cultures have combined to create new works. In Jeonju Hanji Showroom, you can see hanji pieces used in everyday life, such as household goods, interiors, and props. Let's meet various hanji crafts at the Jeonju Hanji Culture Festival, which marks the beginning of the industrialization and glottalization of hanji culture.
Festival Enjoyed and Played with Hanji
Don't you want to make a light with colorful hanji? At Jeonju Hanji Culture Festival, you can experience various things using hanji with craftsmanship. You can make hanji crafts of your own, or you can play with hanji. If you are ready to enjoy and play with hanji, don't hesitate and visit booths all over the Korean Traditional Culture Center.
Variety of experiences, from hanji making, hanji jegichagi(Korean traditional game) where you can feel a sense of accomplishment while moving your body, to hanji crafting where you can make cute items of your own are prepared. In addition to the experience, there are various field events linked to the experience, so don't forget to participate and take gifts.
Hope that everyone can enjoy the moment when hanji and culture come together at a festival where both men and women of all ages can see, feel, experience, and enjoy.
Location

20 Hyeonmu1(il)-gil, Wansan-gu, Jeonju, Jeollabuk-do View Maps
Website

https://jjhanji.or.kr/ Visit Site
Come to Garden Full of Flower Scents

Beautiful Garden in City, Jeonju Garden Industry Expo

The heart of Jeonju blooms in the garden! The 2022 Jeonju Garden Industry Expo presents a beautiful garden created through the hands of professional and civic artists under the theme of 'Garden to save the Earth, an area where gardens innovate'. You can see gardens decorated with various themes in Jeonju World Cup Square and Seoshin-dong, and meet various events as well such as talk shows with garden experts, screening of garden-related movies, and busking performances. Let's enjoy the beautiful garden and have time to heal, enjoy various events without getting bored, and feel the flower of Jeonju.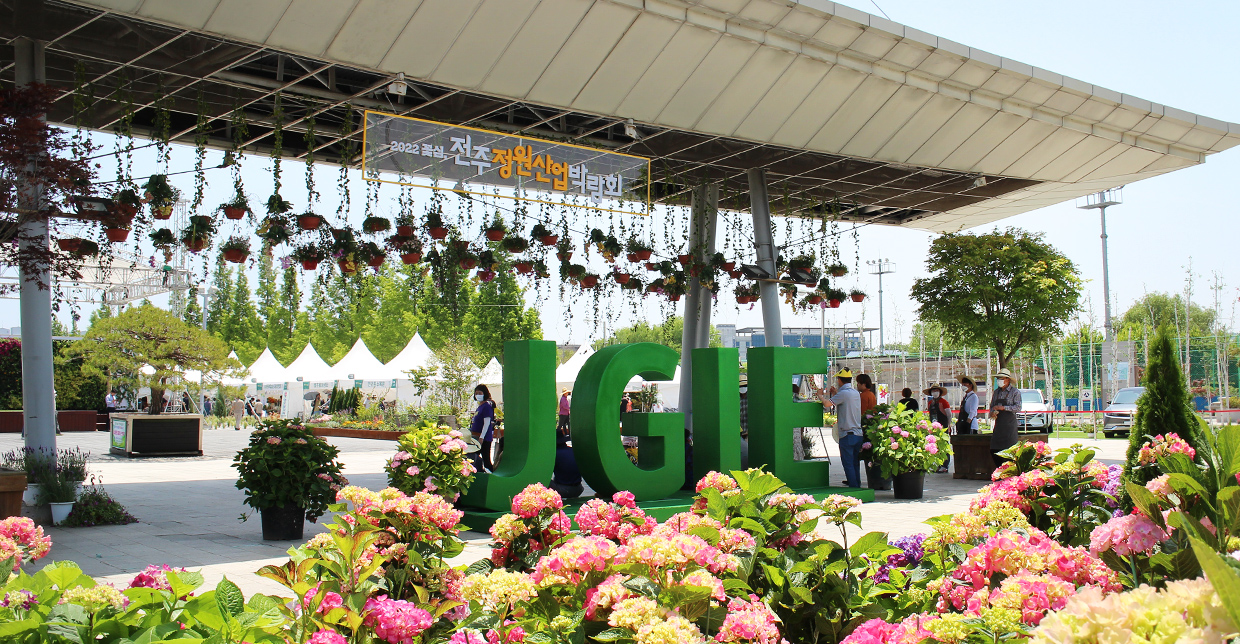 Enjoy Flower Outing in City
Jeonju Garden Industry Expo was held for 5 days from June 2nd to June 6th, 2022. From the entrance, fully bloomed hydrangea welcomes people with its bright colors, making smiles blooms among fresh green and colorful flowers. People's faces are as full of laughter as flowers in full bloom.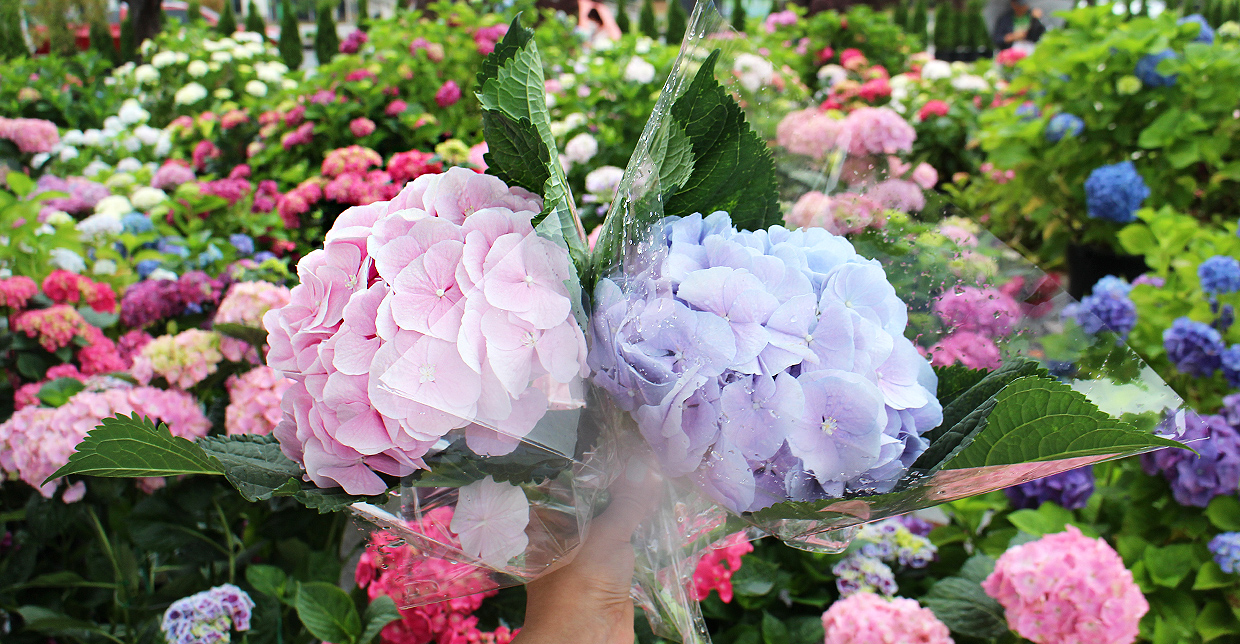 Wherever you head, you can find healing spots. Gardens with various themes are eye-catching; from large-scale magnificent gardens to home gardening and vegetable gardens decorated for use in both indoor and outdoor spaces, and gardens that seem to have reduced natural ecosystems. The theme garden, decorated with small benches, cute flowers, and trees, gives the feeling of being healed by the scenery, making me sit down for a long time.
The moment I see plants and flowers, my heart is full and my eyes are pleasant. The tiredness and exhaustion from daily life seem to be washed away and healed. Where in the city can you see such a variety of plants and theme gardens in one place? It is the Garden Industry Expo in Jeonju, a garden city with 10 million trees.
Jeonju Garden Industry Expo Full of Joy
It is enjoyable to see beautiful flowers and gardens at Jeonju Garden Industry Expo, but there are also many sculptures and booths to see everywhere. From cute gardening items to garden supplies, healthy-grown garden trees and flowers, there is everything you need to decorate the garden.
Each booth is filled with garden trees and flowering plants that are difficult to see normally, making it a fresh garden no matter where you turn your eyes. You can buy plants at a lower price at the booth, so it may be a good idea to get a fresh pot in your room at this opportunity.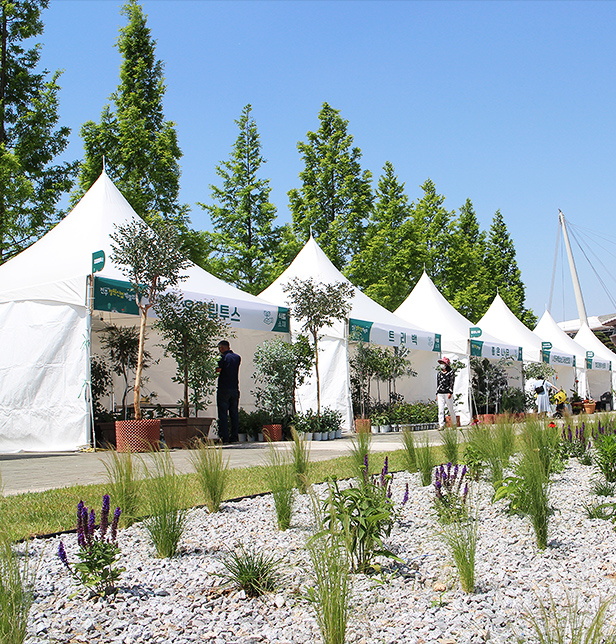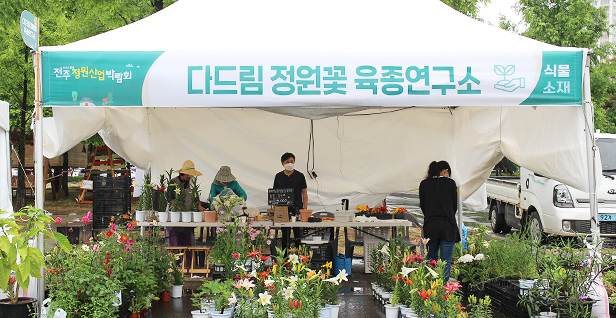 If you are tired of looking around the booths, you can relax freely in a shelter that creates a cool shade. It is also a fun experience to relax in the wind blowing with the scent of flowers and follow the exciting music flowing from the stage to enjoy the performance. Let's take pictures among the flowers harmonized with the gigantic animal sculptures, and participate in events such as a self-repotting experience. It feels like the heat has been forgotten and the fragrant spring has come again as I enjoy Jeonju Garden Industry Expo to the fullest.
Location

1212-3 Yeoui-dong, Deokjin-gu, Jeonju-si, Jeollabuk-do View Maps
Is this Jeonju or Joseon?

Gyeonggijeon People; Joseon People Met in Jeonju

You can meet various characters from the Joseon Dynasty in the area of Jeonju Gyeonggijeon, our 'home theater'. If you're ready to leave for the Joseon Dynasty with the humorous talk and lively stories of various characters, it means you're ready to join the people of Jeonju Gyeonggijeon! If you are confused whether this is a trip to Jeonju or Joseon, it means that you enjoyed 100% of 'Gyeonggijeon People'. Are you going to keep those people from the Joseon Dynasty waiting? Let's go meet those who came to see us from afar!
Time Slip from Jeonju Gyeonggijeon to Joseon!
Jeonju Hanok Village is one of Jeonju's landmarks. Hanok Village, where Joseon and modern times seem to coexist, has many things to see. I recommend you to visit Gyeonggijeon to see 'Gyeonggijeon People' starts in June. 9 storytellers, both with wit and volubility, are waiting for you all over Gyeonggijeon. Let's make unique memories in Gyeonggijeon, listening to fun stories from Joseon Dynasty characters and playing games.
If you walk slowly in Gyeonggijeon, there are people wearing clothes that stand out among many tourists; these are Joseon storytellers. When you approach them walking around Gyeonggijeon or resting on the wooden floor with a fan in a hand, they welcome you and tell interesting stories. As boring history story encountered in books unfolds in witty storytelling, the laughter continues here and there.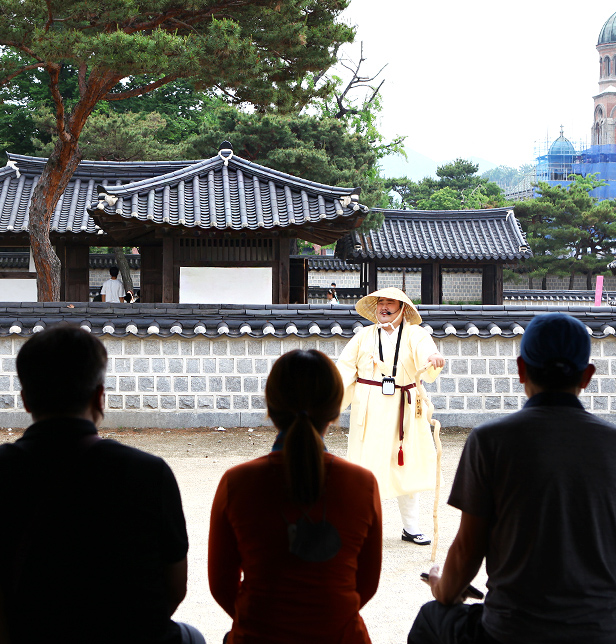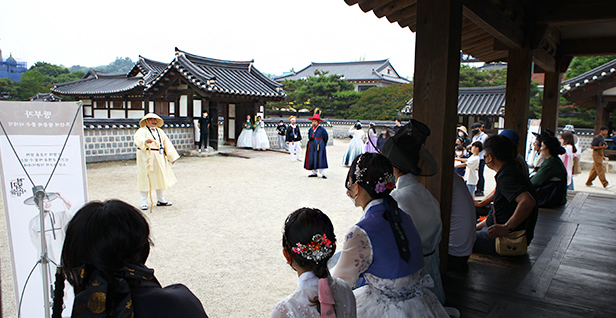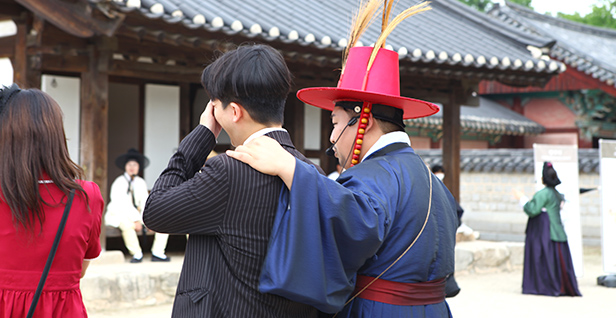 You can also play traditional games with the storytellers. Cheers are heard here and there in the midst of jegichagi game with storytellers. It is a historical trip that both Josen storytellers who tell people about history and tourists who listen to them can enjoy together.
9 Unique Joseon Storytellers
9 Joseon people gathered in Geyonggijeon to convey the history of Joseon to their descendants in an interesting way. A food taster 'Hanipman(One bite)' tells the history of the 3 major foods of Jeonju, the town of taste. A physiognomist 'Ppeongjaengyi(Liar)' tells the historical story of Gyeonggijeon with the physiognomy of Joseon kings. A geomancer 'Ttangbuja(Great land owner)' tells the history of the invasion of Geonwonneung and Jogyeongdan through the royal tombs of Joseon. 'Geumhwagun' is a firefighter of Gyeonggijeon. A Confucian scholar 'Kkamaknun(Illiterate)' explains the history of hangeul and Jaman Mural Village with Yongbieocheonga(Song of Dragons Flying in Heaven). 'Haekinssa(Social butterfly)' tells the history of Seungamsan Mountain, Yuhanggeom, and Jeondong Cathedral. 'Chambong' tells the history of Jeonju History Archive in Gyeonggijeon. 'Malttugi' unravels the history of Joseon and the Japanese colonial era through the 4 gates of Jeonju. And lastly, 'Eojinhwasa' tells the history of Gyeonggijeon with the portrait of Joseon's very first king, Taejo, located in Gyeonggijeon.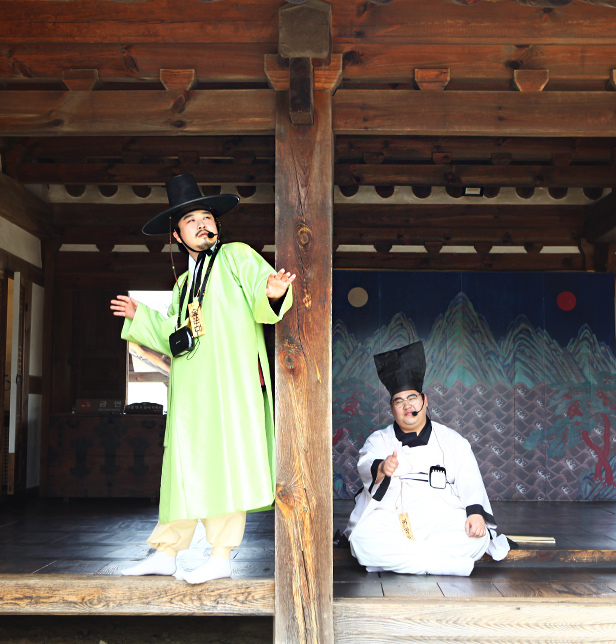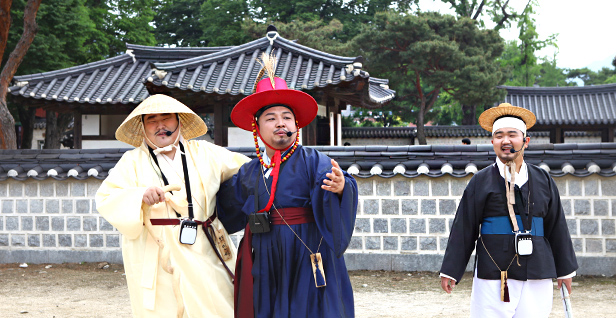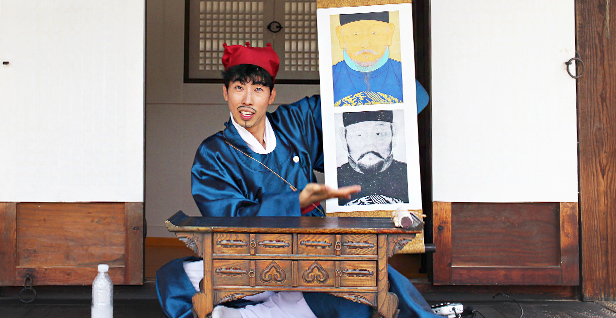 If you hear about the history of the Joseon Dynasty from storytellers and get to know the facts that you didn't know, you easily lose track of time and spend a long time in Gyeonggijeon. One more memory to cherish for a long time has been added after taking pictures with unique storytellers with Gyeonggijeon as the background. Travelers who want to experience an unusual time slip in Jeonju should go to Gyeonggijeon, where 9 Joseon storytellers are waiting.